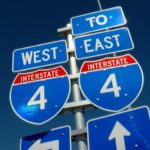 I-4 is in the news again for all the wrong reasons.  GPS tracking company, Teletrac Navman has done the research and found I-4 the deadliest road in the country, surpassing clogged interstates like I-10 in California and the northeast corridor of I-95.
Since January 2016, from Malfunction Junction to I-75, 503 total crashes occurred. Most of those happen between 7:00 a.m. and 4:00 p.m. Friday is the worst day. April and August were the worst months. Most crashes involve drivers in their late 20s.
The most dangerous stretch of highway along this stretch of I-4 is at the Florida State Fairgrounds and the Seminole Hard Rock Casino.
Moving east, we looked at I-4 through Plant City. In the past 22 months, 388 crashes occurred there. Most of those happen between 4:00 and 5:00 p.m. Sunday is the most dangerous day. August is the most dangerous month. Drivers in their early 20s are in the most crashes.
The hot zones where you are most at risk? From Mango Road near Armwood High to Dinosaur World!
And the most dangerous section of the most dangerous highway in America happens to run right through the happiest place on Earth from Lakeland to Orlando.
Since 2016, 775 crashes have occurred. The worst time is around 8:00 a.m. Saturday, the worst day. August, the worst month. Drivers in their 20s account for a third of the crashes.
The stretch where you are more likely to get into an accident? The 15-mile drive from Champions Gate to SeaWorld.
The U.S. Department of Transportation says traffic fatalities have grown 10 percent since 2015.
This is not a designation we need for the Tampa Bay area.  Future trends don't look any better either.  Unless the federal government steps up and addresses this problem, more drivers will die on Florida's I-4.  This is fixable and should be a high priority for our two US Senators and local congressional delegation.  It's past time to act and get this fixed.