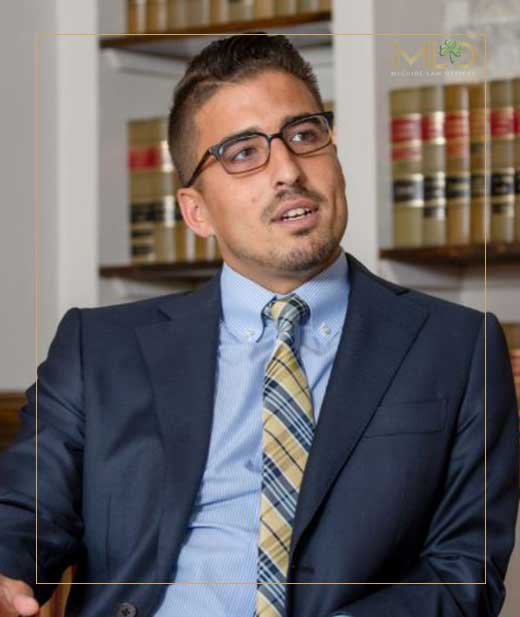 THE LAW OFFICES OF John F. McGuire
Gino A. Megna received his bachelor's degree in Business Administration Finance with High Honors from State University of New York College of Technology at Canton in 2011. Mr. Megna earned his Juris Doctor from Western Michigan Thomas Cooley School of Law in 2014. Mr. Megna is a licensed attorney and a member of the Florida Bar, licensed in both State and Federal Courts. Mr. Megna has also handled cases in Federal court outside the State of Florida.
In 2011, Mr. Megna began his career at McGuire Law Offices as a law clerk during his time at law school, Mr. Megna consistently made dean's list as a top law student and received a Certificate of Merit in Bankruptcy in a course taught by the Honorable Catherine Peek McEwen, Federal Court Bankruptcy Judge. During law school, Mr. Megna had the honor and privilege of also taking advanced family law coursework taught by Honorable Nick Nazaretian, family law Judge in the Thirteenth Circuit of Florida. Mr. Megna has appeared on news networks including Fox and CBS and in the Tampa Bay Times for civil legal matters.
Attorney Gino A. Megna is honored to have been invited by Judge Catherine McEwen to serve as a guest lecturer at the Thomas Cooley School of Law where he had the privilege to teach and mentor aspiring lawyers the facets of Chapter 7 bankruptcy law.
Mr. Megna is a trial attorney that practices a wide spectrum of Family Law and Criminal Defense matters throughout Florida and predominantly Clearwater and the Tampa Bay area, including, but not limited too; divorce, paternity, child support, child custody, post judgment modifications, name change, domestic violence, and any and all crimes. Mr. Megna also has practices in the area of Civil Litigation and Bankruptcy.
Mr. Megna is an active member of The American Bar Association, Clearwater Bar Association, and Pinellas Association for Criminal Defense Lawyers. Mr. Megna was nominated by the Association of Trial Lawyers Top 100 in the State of Florida for Family law, the American Academy of "Top 40 under 40" for attorneys in Family Law, and the American Institute of Trial Lawyers "Top 40 under 40."
Contact McGuire Law Offices for all your legal needs.
Call us today and we'll be happy to set up an appointment to discuss your legal needs. Put our team to work for you, and you will receive our guarantee of hard work and proven legal knowledge. In Clearwater and throughout the Tampa Bay area.