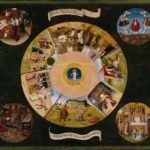 Each season provides us with certain memories, especially as we get older.  Growing up in an Irish Catholic family, this was always a special time of the year.  Christmas was around the corner and even the church services were filled with the anticipation of the upcoming holiday.  For those of you who are Catholic, this is the season of Advent, a four week period where we prepare for the Christmas feast.  In my father's day, the sermons at Mass were a bit different than they were when I was growing up.  During his time, priests would normally focus on what they called the "4 Last Things" ie. death, judgment, heaven or hell.  Needless to say, it wasn't a particularly positive way to get ready for Christmas.  However, it did remind my dad and those of his generation of an important truth-death.  We all have to face it at some point.
While we may not want to consider thinking about that right now, it is something that we should consider in the near future, at least in terms of our estate and our financial situation.  Estate planning is an important part of life and demonstrates to your loved ones that you have their best interests in mind, even at the time of your demise.  It may also help your loved ones avoid the headaches and heartaches that are associated with an untimely death.
Every person above the age of majority should have a duly executed will in order to avoid undue financial and probate difficulties in the event of an untimely death.  If you die without a will, your possessions and property will be distributed according to state law and not necessarily according to your wishes.  If you have minor children, the court will appoint a guardian for them.  All of these issues can be avoided if you have a properly executed will.
If you'd like more information about wills, trusts, and estate planning in general, please visit our website page dedicated to estate planning.