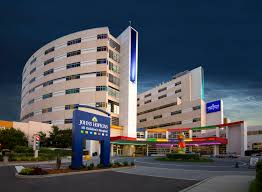 The question posed in the title of this blog post is complex.  Some may read it and think, "well some get better while others die in hospitals."  But this isn't that.
All Children's Hospital now known as Johns Hopkins All Children's Hospital after the prestigious Johns Hopkins bought the local hospital six years ago, is suffering from one of its worst infant fatality rates in the state.  Nearly one in 10 patients died last year. The mortality rate, suddenly the highest in Florida, had tripled since 2015.
The Tampa Bay Times did an extensive report on the issue and here's part of what they found:
They discovered a program beset with problems that were whispered about in heart surgery circles but hidden from the public.
Among the findings:
All Children's surgeons made serious mistakes, and their procedures went wrong in unusual ways. They lost needles in at least two infants' chests. Sutures burst. Infections mounted. Patches designed to cover holes in tiny hearts failed.
Johns Hopkins' handpicked administrators disregarded safety concerns the program's staff had raised as early as 2015. It wasn't until early 2017 that All Children's stopped performing the most complex procedures. And it wasn't until late that year that it pulled one of its main surgeons from the operating room.
Even after the hospital stopped the most complex procedures, children continued to suffer. A doctor told Cash Beni-King's parents his operation would be easy. His mother and father imagined him growing up, playing football. Instead multiple surgeries failed, and he died.
In just a year and a half, at least 11 patients died after operations by the hospital's two principal heart surgeons. The 2017 death rate was the highest any Florida pediatric heart program had seen in the last decade.
Parents were kept in the dark about the institute's troubles, including some that affected their children's care. Leslie Lugo's family didn't know their daughter caught pneumonia in the hospital until they read her autopsy report. The parents of another child didn't learn a surgical needle was left inside their baby until after she was sent home.
The Times presented its findings to hospital leaders in a series of memos early this month. They declined interview requests and did not make the institute's doctors available to comment.
Pediatric heart surgeries were halted in October and the program is under a hospital review.
The situation is still not fixed in part because the hospital has been less than forthcoming about its internal issues.  This is a crisis and needs to be addressed and fixed immediately.