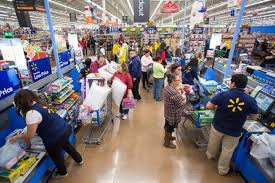 A West Virginia jury has slapped Walmart with a $17 million verdict after a shopper was injured while store security was trying to detain an alleged shoplifter.  The woman suffered internal injuries that required surgery after the shoplifter ran into her trying to evade apprehension.
The verdict, returned Monday after less than two hours of deliberations, included $6.5 million for Diane Ankrom's past and future medical expenses along with more than $10 million in general damages.
Responsibility was split with 70 percent allocated to the shoplifter and 30 percent to Walmart.
In Feb. 2015, Ankrom was at the South Parkersburg Walmart with her granddaughter when the shoplifter was stopped in the vestibule near the exit after stealing gloves.
The gloves were returned at that point to Walmart employees, according to Bordas, who said those employees then took the shoplifter back into the store when they knew he was a "flight risk" because of his previous attempts to run.
Ankrom sustained traumatic injuries to her intestines which have required multiple surgeries during more than 20 hospital admissions.  Ankrom's lawyers filed a lawsuit on her behalf claiming Walmart failed to maintain its premises in a reasonably safe condition when attempting to apprehend a shoplifter.  The jury agreed with her.
At the age of 52, she's living with an ileostomy for waste removal and requires a special feeding procedure daily in order to get enough nutrients.
Walmart may appeal the verdict.  It's not clear at this point how much of the $17 million verdict will actually be awarded to Ankrom.