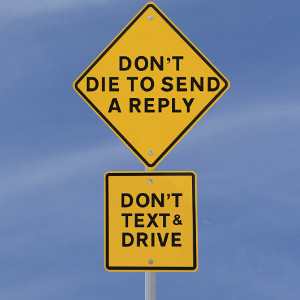 Texting while driving is dangerous.  We have the experience and the facts to support this idea.  It's pretty much common sense, except in Tallahassee where some bonehead legislators are blocking its passage.
Florida has the dubious distinction of being one of only five states that has not made texting while driving a primary offense.  Presently, a cop can stop a driver for texting and driving only if the cop witnesses another infraction such as speeding or something like a broken tail light.  This is just plain stupid.  Yet, here we are.  Drivers can text and drive, killing innocent people in the meantime.  You think I'm exaggerating?  Look at the numbers.  The Fort Lauderdale Sun-Sentinel cited a state Department of Highway Safety and Motor Vehicles report that Florida was second-worst in the nation for distracted driving. In 2016 there were about 50,000 distracted-related crashes in Florida and 233 deaths.  In spite of the numbers Republican Sen. Rob Bradley leads the Senate Appropriations Committee, and the Miami Herald reported he is not allowing the bill to be heard. Bradley cited privacy concerns in bottling up the proposed bill, saying it could allow police to search a suspect's cell phone or even increase racial profiling.
Perhaps these concerns are legitimate but do they outweigh life and death?  Texting while driving is one of the most dangerous things a driver can do short of drinking and driving.  Joe Henderson's piece in Florida Politics this morning properly expresses the outrage all of us should feel at this dumb response to a sound piece of legislation. It's time Floridians call Bradley's office (888-347-3483) and demand the bill get a fair hearing in his Appropriations Committee.  We need this bill to become law so the needless deaths on the highway can end.  Privacy concerns don't trump the public's general welfare and safety.