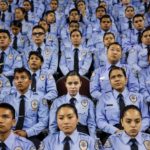 Those of us who were old enough to remember the scandals surrounding the Los Angeles Police Department in the 1990's, know the LAPD doesn't enjoy the best reputation. Well, it seems like things haven't changed much.  You could argue they've gotten worse.
The LA Times is featuring a story of a sex scandal involving Los Angeles police officers and underage cadets.  Here's an excerpt from the Times' article:
The department's written manual governing contact between cadets and adults has not been updated in more than a decade, even though a police officer was recently convicted of sexual crimes involving a 16-year-old cadet.

In the LAPD's equipment rooms, officers say a culture of laxity has become the norm, creating opportunities for anyone — volunteers, cadets or officers — to walk off with property.

Some of the seven cadets who were arrested last month allegedly drove a police car beyond county limits, pulled over at least one motorist and led LAPD officers on car chases ending in crashes that could have hurt or killed someone.

A 31-year-old police officer who allegedly had sex with a 15-year-old cadet may have helped the cadets steal cars as well as Tasers, a bulletproof vest and other police equipment. The officer, Robert Cain, has been charged with sexually assaulting the girl.
The cadet program began in 2010 after participating in the controversial and equally troubled Boy Scouts of America Explorer program for years.  Even during the Explorer years, there were problems with police officers engaging in criminally inappropriate activity with minors.
Nearly two decades ago, a 33-year-old police officer was accused of having sex with an Explorer and improperly touching two others. Seven other officers were accused of administrative breaches, including inadequate supervision.
In 2006, Officer George Stan pleaded guilty to 15 felony counts of sexual assault involving seven victims, two of whom were involved with the Explorer program.
Last year, an LAPD youth services officer named Abel Montes de Oca was arrested after he allegedly sent sexually explicit texts and suggestive song lyrics to a 16-year-old cadet.
Montes de Oca was convicted in January, served four months in jail and was ordered to register as a sex offender. He is no longer on the force.
If this were a problem isolated in Los Angeles that's one thing.  The problem is nationwide and has been a quiet epidemic for decades. 
In 2015, a Miami officer ran afoul of the law for engaging in sexual acts with a minor. Detective Joseph Mendez, who had been lauded for his work with the department's Explorer program, is charged with trying to seduce girls in the program by providing them alcohol. One girl told the Florida Department of Law Enforcement agents that Mendez picked her up at home, then dared her to flash her breasts before repeatedly trying to get her to drink wine. Mendez later admitted he took part in the Explorer program because he was having problems with his marriage and he "needed something else to get my mind off of it." He admitted to buying the drinks while with the girls only to "loosen up" and get "fresh ideas" for the Explorer competitions. He ultimately pleaded guilty to four misdemeanors – for providing alcohol to minors – and was placed on a year's probation and ordered to do 35 hours of community service and pay the $56,000 cost of the investigation.
Florida has seen its share of Explorer sex abuse cases.  Whether they are called cadets or explorers, the facts remain the same.  They are minor and not consenting adults.  For an adult to engage in any kind of sexual activity is a criminal offense.  It's worse when it involves a police officer, clergy person, or other publicly trusted official.  It's time for the bullshit to stop and protect our children from predators.