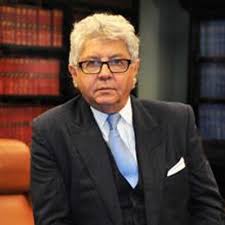 My friend Barry Cohen passed away this morning.  He had been fighting Myelodysplastic Syndrome and later  leukemia.  He never lost his sense of humor or his humanity.  I feel lucky to call him a friend.  He FaceTimed me last week to tell me that he loved me and to "lose some fucking weight".  That was my friend.  Tough but tender.  He was one of the most loyal and pugnacious guys I am privileged to call friend.
Perhaps the fact that neither of us came from cushy backgrounds made a real friendship possible.  Barry's father was a candy store owner in Brooklyn before moving to Tampa.  In fact, in one of his last interviews, Cohen recalls his father being bullied.  The experience made a lasting impression on my friend.
Both of us have had to fight for everything we have.  Nothing was ever given to us.  To be honest, nothing was ever expected of us.  But Barry Cohen knew that he had to outwork and out hustle every other lawyer in town to survive.  He served his clients with a loyalty that was unmeasured.  He always looked out for the little guy or the one whom public opinion had already decided his fate.
If you were his friend, his loyalty and his friendship knew no bounds.  I am blessed to have been one of those guys.
I'm Irish and Barry was Jewish.  Barry was a mensch.  He possessed menschkeit.  I learned from him and respected him.  More importantly, I loved him like a brother.  A tough guy, he was able to call me the week before he died to tell me he loved me.  What a gift!  I will treasure that call.
Tampa Bay lost a great man this morning.  I lost a dear friend.  Life is full of sorrows.  Our memories however assuage those sorrows and make the bitterness somewhat sweet.
RIP Barry, my dear friend.