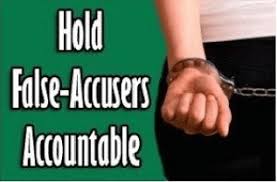 Actor-singer Jussie Smollett, from the Fox series, "Empire,"reported to Chicago police that he'd been the victim of a hate crime as he told police two white men shouting racial and homophobic slurs put a noose around his neck, poured chemicals on him and told him, "This is MAGA country." Police now suspect Smollett set the alleged attack up himself, paying two Nigerian men he knew to carry out the attack, according to reports.
There has been a recent uptick in this kind of criminal behavior.  It wastes taxpayers' money and law enforcement's time and resources.  It's also a serious crime and should be prosecuted.
Last month, a Native American man in Washington D.C. made national headlines after he said a group of MAGA-hatted teens confronted and mocked him after he and they were coming from different marches. Video later showed that the man, Nathan Phillips, had sought out the confrontation and gotten in one of the teens' faces.
Last November, a student at Kansas State tweeted out a picture of what she said was a racist note placed on her door. Following an investigation, police said the student admitted placing the note there herself.
In November 2016, a 20-year-old admitted he lied when he told Malden cops he was harassed by two men who he said used a racial slur, referenced lynching and proclaimed it's "Trump country now."
Five black Air Force Academy cadets in 2017 found racial slurs written near their rooms, leading to the school's superintendent delivering a stern speech against racism in a viral and widely-praised video. But authorities later said one of the five cadets had written the messages.
Farther back, in Lunenburg, Mass., in 2013, police said the mother of a biracial teenager who was a member of the football team spray painted a racial slur on the side of their home, prompting vigils and a suspension of the football program.
In my opinion, the fake reporting of a crime shouldn't be tolerated.  It seems to be the cool thing to do right now but it puts law enforcement and innocent people in danger.  In Florida, False Report of a Crime, or 'False Police Report,' occurs where a person makes a willful allegation to law enforcement regarding the commission of a crime, while knowing that no such crime has occurred. The offense carries misdemeanor penalties, including up to 1 year in jail.