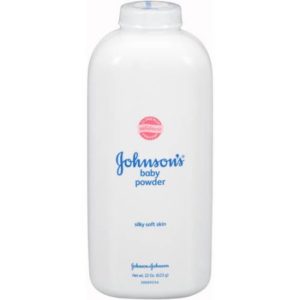 Ovarian cancer has been associated with talcum powder, particularly Johnson & Johnson's brand Johnson's Baby Powder for years now.  While the science remains unclear and a debated topic, J&J has settled cancer lawsuits related to its baby powder.  One may ask the question, "If the science isn't clear, why would J&J settle lawsuits?"  Well, the answer like the whole issue is complicated.  Let's take a look at the history so we have some context.
According to Huff Post, "One century ago, in 1892, J&J's director of scientific affairs Dr. Frederick B. Kilmer first invented a scented powder that was originally labeled "for toilet and nursery" in its red and yellow vintage tin can. His idea was to add perfume to Italian talcum and market it together with sanitary napkins to midwives and mothers following childbirth.
J&J's Baby Powder rapidly became popular, to the point that many people around the world started associating its scent to the smell of newborn themselves. It was so pleasant that many women started using it to sprinkle it in their underwear and genital area to add a nice sense of "freshness and cleanliness."
Today talcum powder is found in a wide range of cosmetic products to prevent irritations, dry babies' skin on diapers, absorb moisture and bad odors. It's also found in contraceptive devices including condoms and diaphragms to reduce friction.
However, it was later discovered that talcum was not so safe as it was originally thought, and many women found that to their own dismay.
The first talcum powder lawsuit was filed in 2009 by Diane Berg, a woman from Sioux Falls, South Dakota. Berg, who is a physician assistant, was diagnosed with ovarian cancer in 2006 when she was just 49 years old.
She had no idea that this product could be so dangerous since there was no warning to be found on its label about any possible cancer risk coming from long-term exposure. "I went into the bathroom, I grabbed my Johnson's Baby Powder and threw it in the wastebasket," explained Berg to the New York Times.
She sued the pharmaceutical giant blaming it for gross negligence and fraud, and a few years later, in 2013, J&J came to her offering a deal. She was offered an out of court settlement of $1.3 million if she would settle down her case and drop all the accusations. But when the woman heard that she had to sign a confidentiality clause, she decided to refuse. "It was never about the money," she said in an interview, all she cared about was warning people around the world about how dangerous the Baby Talcum powder was."
Back to the original question-why would J&J settle these talc lawsuits when the science is unclear?  The answer is to be found in the behavior of J&J and not precisely the science of talc powder.  During one of the lawsuits, it became public that J&J had withheld knowledge that talc powder may cause ovarian cancer.  As in many defective product cases or pharmaceutical drug cases, the smoking gun proved more powerful than the science.
Most recently, there's arisen a new twist in this saga and it's bad news for Johnson & Johnson.  There are experts who are alleging that talc powder, including J&J's Baby Powder, contains asbestos which has been scientifically linked to the deadly mesothelioma.
Mesothelioma is a rare cancer caused almost exclusively by exposure to asbestos. It forms in the thin protective tissue that covers the lungs and abdomen.
Lawsuits claim people developed mesothelioma after exposure to talc contaminated with asbestos.
"Questions about the potential contamination of talc with asbestos have been raised since the 1970s," according to the U.S. Food and Drug Administration.
The talc mesothelioma cases are separate from the thousands of lawsuits filed by women who say they developed ovarian cancer as a result of using Johnson & Johnson's talcum powder on their genitals.  A new class-action investor lawsuit against J&J accuses the New Jersey company of failing to disclose that its talc products carry the risk of both mesothelioma and ovarian cancer. That lawsuit also says the company targeted black and Hispanic women to increase sales.
Right here in Florida, jurors on Feb. 22, 2018, heard opening statements in the case of Robert Lord. Lord sued Vanderbilt Minerals. He blames the company for his exposure to industrial products that contained talc while he worked for Florida Tile during the 1970s.
Talcum powder, ovarian cancer, and asbestos-a potentially lethal mix of legal theories, science, and more courtroom battles.