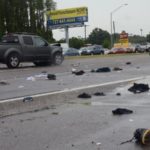 Florida car accidents are a frequent fact of life here in Florida.  Anyone who spends anytime on Florida roads witnesses a car accident on a regular basis.  This is to be expected from one of the most populous states in the country and the fact that tourism is one of the state's leading growth industries.
But, here are a few facts you may not have known:
1)Did you know that the majority of car accidents in Florida occur Friday night around midnight?  Personally, I would have guessed during rush hour but the statistics don't prove that.
2)Did you know that the age group which has the most amount of accidents is neither seniors or teenagers?  Nope, it's true.  That distinction belongs to people between the ages of 25-34.  It's funny (by that I mean ironic) that the insurance companies haven't picked up on that since most rates are highest for teen drivers.
3)Were you aware that Florida's torrential summer downpours aren't the cause of most accidents?  Interestingly, up to 84% of accidents and 88% of all fatal crashes took place under clear skies and the roads were not wet. Only 6.5% of the accidents were caused by bad weather.
4)That brings us to the next little known fact:  the major causes of car accidents in Florida have to do with failure to yield and reckless operation of a motor vehicle.
5)Finally, did you know that passenger cars, pickups, vans and SUVs collectively amounted to 288,046 accidents combined while the next closest class of vehicles (tractor trailers, heavy trucks) accounted for a little over 15,000 accidents)?
One fact that we know all too well is that alcohol has played a major role in traffic accidents in Florida, including fatalities.  Stiff DUI penalties and criminal citations have not lowered this statistic.  Unfortunately, Floridians continue to climb behind the wheel after drinking.  This has to stop.  This holiday season, let's be safe out there.  If you get into a car accident, you can call me and I will help you as a Florida car accident lawyer.  But let's hope you don't have to make that call.