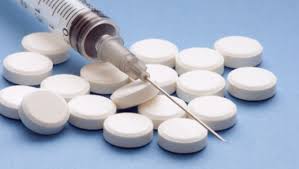 Money talks.  We all know that.  When the federal government attempts to take on big Pharma, it's not clear cut who will win the battle.  For more than two decades now, big Pharma has been winning because the federal government hasn't shown up to fight.  Yes, they've issued directives and regulations that have been largely ignored because a lack of governmental oversight and enforcement.
In the two decades since OxyContin was introduced in 1996, there have been nearly 218,000 overdose deaths related to prescription opioids, according to the Centers for Disease Control and Prevention. While overdose deaths continue to rise, the number of opioid prescriptions has been falling since 2012.
But that is mostly because of a classification change that made drugs like Vicodin (which mix opioids with milder drugs) Schedule II narcotics, which placed more restrictions on prescribing them. Oxycodone, the powerful narcotic that is the main ingredient in OxyContin, was already a Schedule II drug and its sales have continued to rise, according to figures compiled by Iqvia, a health data provider.
The three largest distributors sold 1.6 billion oxycodone pills in New York alone between 2010 and 2018. It was distributors, said the office of Attorney General Letitia James of New York, who "jammed open the floodgates."
In 2017, after years of allegedly flouting legal requirements to monitor suspicious orders of opioids, McKesson agreed to a $150 million settlement with the Justice Department, a record for a distributor.  To most of us, that sounds like a huge fine and a disincentive to keep flouting the rules.
For most businesses, $150 million would be a lot of money. At McKesson, it was less than the $159 million retirement package the company granted its longtime chief executive, John H. Hammergren, in 2013.
The huge pharmaceutical companies can continue to pay these fines because they're just a cost of doing business.  Their profit margins remain handsome and they have no real incentive to change the way they are doing business.
Unless and until criminal penalties are brought and they stick to real individuals who are running these companies, nothing is going to change.  There is just too much money to be made.  In the meantime, we have a fresh group of opioid addicts who will either die or be crippled for life by addiction.