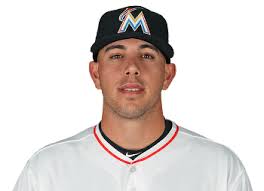 Jose Fernandez was already a superstar at the age of 24.  A Cuban native who had made three unsuccessful attempts to defect to the United States before finally succeeding in 2008, the Cuban community in Miami embraced him as a folk hero.  He could do no wrong. Until he did.
This isn't going to be a popular post with many people.  While in life Fernandez was a larger than life persona capable of hoisting the hopes and dreams of all of Miami on his broad shoulders, his death has revealed a darker, uglier side.
Jose Fernandez died in a boating accident off the shores of Miami early in the morning of September 25, 2016.  An autopsy report found that he was under the influence of both alcohol and cocaine.  The crash investigation also determined that Fernandez was the driver of the boat that killed passengers Jesus Macias and Eduardo Rivero.  His blood alcohol level was .167, more than twice the legal limit.  Add cocaine to the mix and Fernandez wasn't capable of sitting upright in a boat much less take the helm at speeds in excess of 65 mph.  Perhaps his Marlins' teammates knew something was amiss.  They all declined his invitation that night to go out on the boat.
In his column today, Bob Klapisch pulls no punches in calling out Fernandez for his behavior.
"Nice guy that he was, regardless of his popularity, it's no longer possible to see Fernandez in a sympathetic light. His legacy morphs from supernova, at the doorstep of a brilliant career, to a man who destroyed families. Not just his, but those of Emilio Jesus Macias and Eduardo Rivero, who trusted Fernandez to navigate the waters near South Beach.

But the pitcher's recklessness was mind-boggling, according to the Florida Fish and Wildlife Conservation Commission. Operating in pitch-black conditions at 3 a.m., Fernandez pushed the boat to 65 mph, its maximum speed, and crashed into a jetty, killing all three men instantly.

What a horrible end. What a preventable atrocity. Fernandez made one terrible decision after another that night — and you can only ask why. Teammates knew him as fun-loving, upbeat, an optimist. His pitching skills were almost limitless. Fernandez didn't just make friends; he inspired loyalty."
That's the tragedy and the irony of Jose Fernandez.  His Miami Marlins' teammates loved him as evidenced by the tears flowing after the pre-game ceremony honoring Fernandez shortly after his death.  He was only 24 years old and baseball fans knew he was capable of greatness on the pitching mound.  Yet, there's the other side, the all-too-human side.  One family friend recalled that Fernandez had a capacity to throw back a few adult beverages and his temper was well-known among those who knew him well.
If Fernandez had survived the crash, he would be facing serious criminal charges including Boating Under the Influence Manslaughter, Vessel Homicide and Reckless or Careless Operation of a Vessel, according to the report published by the Florida Fish and Wildlife Conservation Commission.  The two passengers' families have already sued Fernandez' estate as a result of the crash.
Life is complicated and rarely black and white, even for heroes.  Perhaps on St. Patrick's Day, the largest drinking day apart from New Years, we can learn from this tragic tale.  If you get behind a vehicle, a boat, a bicycle after drinking no amount of past good deeds, heroism or adulation will save you.  In life one thing is certain-actions have consequences and those consequences can be unforgiving.  If Jose Fernandez had survived he could tell you all about it.