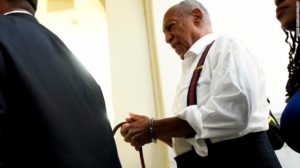 Photos of 81-year-old Bill Cosby walking out of the courtroom in handcuffs are all over the Internet.  Cosby, the disgraced actor convicted of 3 counts of sexual assault, will now spend the next 3-10 years in prison.  Most people believe he got what he deserved.  Others say the sentence was too lenient.  Remember, each count could have been punishable by 10 years.
While dozens of women came forward accusing Cosby of sexual assault, it was the testimony of one woman who sealed his fate.  It was Andrea Constand who 14 years ago came forward and accused Cosby of drugging her and then assaulting her. It took more than a decade, two trials and dozens of accusers to seal his fate.
Glancing toward Constand and her family, the judge said her impact statement was crucial in determining the sentence. Constand's attorney put her arm around her shoulder as the judge handed down the sentence.
Cosby remained expressionless when the judge read the sentence, and did not address the court during the sentencing hearing. "I do not need any more discussion on that," he responded to a question on whether he'd say something. When O'Neill asked him if he understood that decision, Cosby answered, "yes."
O'Neill said he would not hold it against Cosby that he didn't speak or testify. As part of the sentence, the judge also ordered him to pay a fine of $25,000 plus the costs of prosecution. Cosby was booked into Montgomery County Correctional Facility and transferred to Pennsylvania's State Correctional Institute at Phoenix on Tuesday evening.
Constand's case was the only one that was within the statute of limitations. A new team of prosecutors took up the case based on Constand's and Cosby's statements in a civil deposition, and arrested him in December 2015.  A first criminal trial against Cosby ended in a hung jury. But in April, Cosby was
convicted of three counts
of aggravated indecent assault for drugging and assaulting Constand in the first high-profile celebrity criminal trial of the #MeToo era.
Even after the conviction and sentencing, there are a small number of people who believe Cosby served as a scapegoat and was railroaded by an overzealous team of attorneys hellbent on bringing down a famous actor.John Davis, an international lawyer who lives in the south of France and writes about gender issues, called the trial a case of "sleazy backwoods justice."
"The Cosby jury verdict is being heralded as a great milestone in justice for women accusers … but the problem is that the judge in the case rigged the trial to ensure that Cosby would be convicted," Davis said. "Hundreds of times during the Jim Crow era, judges rigged trials in rape cases so that they could be hanged even though they were innocent."
"The trial was a terrific example of the travesty of justice in the American courtroom for sex assault trials," said Paul Saputo of the Dallas-based Saputo Law Firm. "As has happened throughout American history, popular culture weighs heavily on criminal justice and I obviously don't know whether or not Cosby is guilty of what he's accused of, but when the justice system sacrifices fairness in procedure to tilt the scales, we have a major problem."
In this case, popular culture won the day, but is that justice?  Should the justice system be influenced by the prevailing winds of social pressure?  Did that happen in this case?  You decide.