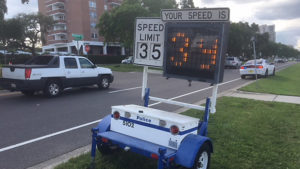 Bayshore Boulevard is a scenic thoroughfare for tourists, bicyclists, pedestrians, and anyone who wants a beautiful glimpse of the bay and Tampa's skyline.  Now, it will also be known as the scene where a young mother and her toddler were mowed down by a vehicle racing another car on the boulevard.
If you read the Bay News 9 story, you'd think the tragedy was caused by a lack of police presence and drivers disregarding the speed limit.
"I ride up here all the time and I see a lot of cars speeding. I saw a guy hit on a bike once so yes, I think it's a positive thing," said Manny Hernandez.

Up until now, there are flashing signs on both sides of Bayshore Boulevard notifying drivers how fast they're going.

Homeowners say this hasn't worked.

"I rarely see officers writing tickets," said Chelsea Johnson, president of the Bayshore Beautiful Homeowners Association.
But ticketing speeders wouldn't have avoided this tragedy.  Two cars were racing northbound on Bayshore when the accident occurred.  This wasn't due to a lack of police presence or a lower posted speed limit.
Investigators say a black 2018 Mustang, driven by Cameron Herrin of Tampa, was in the outside lane — closest to the sidewalk — and struck the victims. A gold-colored Nissan, driven by the 17-year-old boy, came to a stop next to the Mustang.
Parents of the two young drivers were there to console them. Both were clearly shaken and upset. Neither left the scene.
Police questioned both drivers at the scene of the wreck for hours.
Later, Tampa police announced Cameron Herrin and the other driver were arrested and charged with street racing, vehicular homicide and reckless driving resulting in serious bodily injury.
Tristan Herrin, the passenger in his brother's car, was charged with racing.
When tragedies happen, the media must be diligent and accurate in their reporting.  Don't blame the police.  Don't blame the speed limit.  Three criminals killed a young mother and her toddler.  That's what happened.  It's a tragedy that happened in a split second because three teenagers decided to be reckless.