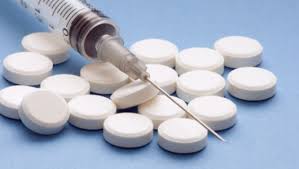 Indictments were unsealed in federal court in Cincinnati yesterday that revealed what law enforcement officials are calling "single largest prescription opioid law enforcement operation in history."
The indictments accuse 60 people, including 31 doctors, seven pharmacists and eight nurses, of involvement in the schemes, which included prescribing opioids for gratuitous medical procedures like unnecessary tooth pulling. In some cases, prosecutors said, doctors simply handed out signed blank prescription forms.
"These cases involve approximately 350,000 opioid prescriptions and more than 32 million pills — the equivalent of a dose of opioids for every man, woman and child across the states of Ohio, Kentucky, Tennessee, Alabama and West Virginia combined," Brian Benczkowski, an assistant attorney general in charge of the Justice Department's criminal division, said at a news conference.
Given the fact that the opioid epidemic has hit that region of the country the hardest, the indictments are a positive step in the right direction.
Nationally, more than 70,000 deaths in 2017 were attributed to drug overdoses, with about one-quarter of them caused by prescription opioids. States wholly or partly in Appalachia recorded some of the highest rates of drug overdose deaths that year: West Virginia was first in the nation, Ohio second and Kentucky fifth.
"The opioid epidemic is the deadliest drug crisis in American history, and Appalachia has suffered the consequences more than perhaps any other region," Attorney General William P. Barr said in a statement.
Prosecutors accused the medical professionals who were charged Wednesday of conducting a wide range of schemes. Some involved small leagues of doctors and their office staffs, while in other cases, people acted alone, according to the indictments.
The criminal charges against the doctors are serious and many of the charges carry prison sentences of up to 50 years in prison if convicted.  Of course, in some of the cases, the offender might just deserve that kind of a sentence.  One illegal prescription obtained in the investigation found that the prescription was so large it was tantamount to prescribing 15 pills a day.