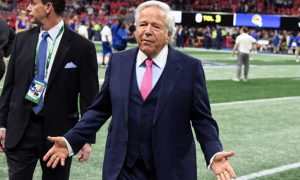 Last Monday's ruling by Palm Beach County Judge Leonard Hanser was a huge victory for Patriots' owner Robert Kraft who was one of dozens of spa patrons allegedly caught on camera receiving illicit massages at the spa in January.
He and other defendants pleaded not guilty to misdemeanor charges stemming from the footage and other surveillance methods.
The judge ruled that the secretly obtained video violated Kraft's 4th Amendment rights as well as Florida law.
n his order, Palm Beach County Judge Leonard Hanser suppressed all evidence against Kraft that was obtained through and in connection with the search warrant.
Hanser said the Jupiter Police Department and the judge who issued the search warrant did not do enough to minimize the invasion of privacy of customers who received legitimate massages.
"The fact that some totally innocent women and men had their entire lawful time spent in a massage room fully recorded and viewed intermittently by a detective-monitor is unacceptable," Hanser wrote.
Law enforcement did not identify Kraft until he left the spa and an officer pulled over his car to verify who he was. Hanser suppressed all information obtained through the stop as "fruit of an unlawful search."
However, Fifteenth Judicial Circuit State Attorney Dave Aronberg's appeal does not specify any arguments.  According to Kraft's lawyers, without the video evidence, the prosecutor has no case against their client.
The 4th Amendment protects each of us from unreasonable searches and seizures by limiting the scope and power of government.  The Amendment is a crucial right for anyone who stands accused of a crime.
Judge Hanser wrote in his 26-page ruling that the investigators had reasonable probable cause to request that surveillance cameras be installed in various parts of the Orchids of Asia Day Spa, including in the treatment rooms.
But he said the search warrant was "insufficient" because it did not define parameters of how to protect customers at the spa who were not under suspicion from being videotaped and from violations of their Fourth Amendment rights against unreasonable searches and seizures. The judge also called the video evidence "seriously flawed."
The cameras were haphazardly installed, the judge said, and they captured video of people, particularly female clients of the spa, who were not subjects of the investigation. There were no instructions in the search warrant on how to prevent these people from being videotaped.
Aronberg's appeal will be difficult and thus far has not proposed any legal theory which could lead to the ruling being overturned.