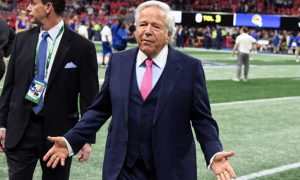 New England Patriots owner Robert Kraft and other men caught in a police sting operation concerning prostitution at Florida massage parlors have been offered a plea deal by the Palm Beach County State Attorney.
The men must concede they would be found guilty, perform 100 hours community service, attend a class on the dangers of prostitution and pay $5,000 per count, spokesman Mike Edmondon said. Kraft was charged with two counts last month.
In return, the charges of misdemeanor soliciting prostitution would be dropped. Edmondson said none have accepted so far.
About 300 men have been charged and 10 massage parlors closed in multiple counties between Palm Beach and Orlando as part of a crackdown on illicit massage parlors and human trafficking. Several operators and employees have also been charged.
Police say Kraft visited the Orchids of Asia Day Spa in Jupiter, Florida, twice in late January just before he flew to Kansas City to see the Patriots defeat the Chiefs in the AFC Championship game.
According to police records, the 77-year-old Kraft was chauffeured to the massage parlor in a 2014 white Bentley on the evening of Jan. 19, where officers say they secretly videotaped him engaging in a sex act and then handing over an undetermined amount of cash.
Investigators said Kraft returned 17 hours later, arriving at the upper-middle class shopping center where the spa was located in a chauffeured 2015 blue Bentley, the documents said. Kraft, who is worth $6 billion, was videotaped engaging in sex acts before paying with a $100 bill and another bill, police said. Hours later, he was in Kansas City for the game. His team then won the Super Bowl in Atlanta, the Patriots' sixth NFL championship under his ownership.
On the one hand, if the evidence is strong that Kraft committed the acts it may be the smart thing to just accept the plea deal and move on.  On the other hand, if the evidence is not clear and convincing, it may be worth fighting.  Kraft has the resources and the damage to his reputation could be devastating.  This isn't just a prostitution arrest. The media has framed it as a human trafficking story, far more damaging to Kraft and his personal brand.
The plea deal for the State Attorney is a shrewd move.  Acceptance of the deal would accomplish all that would be accomplished in a guilty verdict with little expense to the taxpayer.  There's no real downside for the prosecutor in this one.  We'll see what Kraft decides to do.