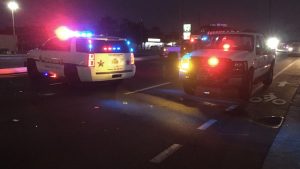 In the midst of our annual Spring Break onslaught of tourists, pedestrian fatalities are on the rise in Pinellas County. The combination of heavy traffic, tourists who don't know the roads, and a general lack of pedestrian lanes that are safe and well lit has contributed to this situation.
Tampa Bay area law enforcement officials are fuming after yet another pedestrian death.
The driver, 57-year-old Glenn Walker, tells Pinellas Park Police Officers he didn't see the pedestrian, 71-year-old William Folsom, until it was too late.
Officers say Folsom stepped out into the middle of the six-lane highway just after 6:30 a.m. The conditions were dark because of the recent daylight saving time changes. Heavy fog also cloaked the roadway.
Pinellas Park Police say Folsom was killed on impact. He was wearing dark clothing and crossed the highway less than one block from the nearest crosswalk.
Across the country, pedestrian deaths are at the highest level in 28 years, according to the Governor's Highway Safety Association. Florida was recently named the most dangerous state for walkers.
On St. Patrick's day, another pedestrian was killed. A man was killed after he walked in front of a car in Pinellas County Sunday night.
The incident occurred on Northbound Starkey Road, just north of Park Boulevard in Seminole just before 1:30 a.m.
The Pinellas County Sheriff's Office says David Cunningham,41, was crossing Starkey Road from east to west for unknown reasons when he was struck by a 2018 Mazda 3.
The sheriff's office says Cunningham was not in a designated crosswalk and sustained fatal injuries. He was pronounced dead on the scene.
The 21-year-old driver did not sustain any injuries.
Alcohol and speed do not appear to be factors in the crash.
The investigation is ongoing.
Speed and alcohol were not factors in either of these fatalities.  The deaths are the result of what I've already mentioned in this post.  None of the solutions are easy or quick fixes but the situation is becoming dire in Pinellas County.