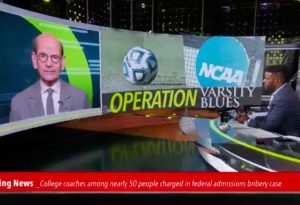 The US Justice Department has launched a wide-ranging criminal probe involving wealthy parents college admissions officials in order to guarantee their kids' acceptance into some of the country's most prestigious schools.
Federal prosecutors charged dozens of people on Tuesday in a major college admission scandal that involved wealthy parents, including Hollywood celebrities and prominent business leaders, paying bribes to get their children into elite American universities.
Thirty-three parents were charged in the case and prosecutors said there could be additional indictments to come. Also implicated were top college coaches, who were accused of accepting millions of dollars to help admit students to Wake Forest, Yale, Stanford, the University of Southern California and other schools, regardless of their academic or sports ability, officials said.
The parents included the television star Lori Loughlin and her husband, the fashion designer Mossimo Giannulli; the actress Felicity Huffman; and William E. McGlashan Jr., a partner at the private equity firm TPG, officials said.
In many of the cases, the applicants were unaware of their parents criminal behavior.
I posted this on Facebook a little while ago:
The College admissions scam is most disturbing because rich people who have an advantage gave their children a bigger advantage by cheating to get them into college. It will make no difference in life if your parents cheat to help you get ahead on things like the SAT test. My father had died my senior year of high school and my mother was broke and had never even finished high school. By the time I was 35 I was already in the prestigious 900 club. My Mother got her GED when I was in law school. When asked why she got her GED she replied "your gonna be a lawyer and I don't want you to be ashamed of me." I could not be more proud of her. The exclusive 900 club is for people who have gained a net worth in excess of one million dollars and scored under 900 on the SAT.
Wealth has its privileges but this is criminal behavior and reveals the worst of human behavior.  There are no shortcuts in life because when you achieved something through honest, hard work, it's yours and no one else's.  Cheating breeds cheating and never builds character.