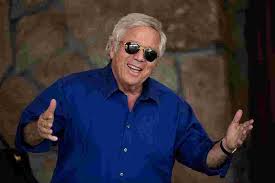 Late last week cable news channels were falling all over themselves trying to get the scoop surrounding Patriots owner Robert Kraft's pending arrest on prostitution charges.  He could be charged as early as Monday with soliciting prostitution, according to the State Attorney's Office in Palm Beach County, Florida.
The 77-year-old billionaire is among more than 100 people linked to several central Florida day spas and massage parlors suspected of being used for prostitution and targeted by law enforcement during a monthslong investigation into sex trafficking.
Kraft visited the Orchids of Asia Day Spa in Jupiter, Florida, twice, police said. Video footage shows him receiving "paid acts" in a room at the spa and surveillance video shows him being driven to the spa, Jupiter Police Chief Daniel Kerr said Friday.
It all started when a health inspector became suspicious of what she saw and heard at the day spa.  She reported her suspicions to law enforcement.  The inspector's suspicions prompted a sprawling investigation across four Florida counties and two states — Florida and New York — over nearly eight months, resulting in the disruption of what authorities say was a multimillion-dollar human-trafficking and prostitution operation.
While much of the media in New England focused on the lurid details involving Kraft, the larger story is human trafficking and it's big business.  Investigators estimated the trafficking ring to be a $20 million international operation. Men paid between $100 and $200 for sex; between $2 million and $3 million has been seized in Florida, he said, including a safe stuffed with Rolex watches.
And Florida is quickly earning an unseemly reputation.  Here's what the Boston Globe is reporting, "That such a lucrative trafficking network existed near the ritzy enclaves of Jupiter Island, home to the likes of golfer Tiger Woods, and Palm Beach, home to President Donald Trump's Mar-a-Lago estate, seemed unfathomable to some of the gawkers who posed for selfies — and in some cases cracked off-color jokes — Friday outside the Orchids of Asia massage parlor in Jupiter, the enterprise that officials said Kraft had visited.
But Palm Beach was also the place where a well-connected billionaire financier from New York, Jeffrey E. Epstein, was accused a decade ago of molesting dozens of underage girls — some of them runaways or foster children who are vulnerable to sex trafficking. A federal judge ruled Thursday that prosecutors violated Epstein's victims' rights by failing to inform them of a plea deal that would protect him from sex-trafficking charges."
It isn't the reputation we want.  Prostitution is intricately tied to human trafficking and human trafficking is a scourge on society.