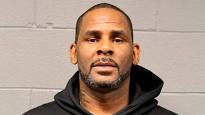 Rumors have followed him for years.  He was even arrested in 2002 on child sex charges but they didn't stick.  This time it looks like his luck ran out.
Kelly was charged in a grand jury indictment unsealed Friday with 10 counts of aggravated sexual abuse involving four victims, three of whom were minors.
Disturbing details of the allegations against Kelly emerged Saturday when the prosecution released four detailed documents — one for each accuser — outlining the basis for the charges. The allegations date back as far as 1998 and span more than a decade.
A 16-year-old girl who attended Kelly's child pornography trial in 2008 got his autograph after a court session. He later invited her to his home in the Chicago suburb of Olympia Fields, where they had sex multiple times, according to the documents, which said he also slapped, choked and spit on her.
This time the charges may stick.  The DA has done a good job, at least thus far, of gathering evidence and testimony that may end in a conviction and a prison sentence for the celebrity.
In 1998, another girl reported meeting Kelly at a restaurant where she was having a 16th birthday party. Kelly's manager gave her the singer's business card and suggested she call Kelly. The girl's mother heard the exchange, took the card and told the manager her daughter was 16.
But her daughter later retrieved the card from her purse. She contacted Kelly, who gave her instructions and money that she assumed was for the taxi fare to his studio, where they had sex periodically for a year, the documents said.
In early 2003, a Chicago hairdresser told prosecutors that she thought she was going to braid Kelly's hair, but he pulled down his pants and instead tried to force her to give him oral sex. The woman, who was 24, was able to pull away, but Kelly ejaculated on her and spit in her face, the documents said.
The allegations are disturbing, to say the least, and if true, he should remain behind bars.