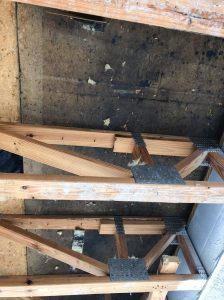 We know that military service members aren't paid well.  They join the service to serve their country and make many sacrifices to ensure the freedoms we take for granted.  So when an issue arises that causes harm to them or their families, I pay attention and want to do something about it.  A story in today's Tampa Bay Times highlights the struggles MacDill families have with their military base housing due to mold.  As the story points out, this is not an issue isolated to Tampa. It caught the attention of one of our local congressmen as well.  The Times writes, "The problem also has gotten the attention of U.S. Rep. Gus Bilirakis, who wrote a letter Jan. 25 to Air Force Col. Steve Snelson, the base commander. Bilirakis wants to know the extent of the problem and how MacDill deals with it, now and for the past ten years.
Bilirakis, the Palm Harbor Republican, joins other members of Congress looking into mold at base housing across the country. They include Sens. Diane Feinstein, Mark Warner and Kamala Harris, all Democrats."
In the mid-1990's, the Government Accounting Office reported that base housing had deteriorated to the point that much of it needed to be replaced.  That's when the Pentagon got Congress to allow a public-private partnership to address the problem.  And that's where we stand now.  Base housing at MacDill is managed by a private company which has allowed this mold problem to get out of hand.
In return for building base housing, private management companies now are paid directly through the allowance each service member receives for rent and utilities.
Unlike civilians, however, military families cannot place their payments in escrow when problems crop up. What's more, base commanders are limited in how they can intercede with private businesses.
That leaves military families who live on base, already under stress from frequent moves, to deal on their own with the landlord.
Mold is a serious problem that causes sickness and disease.  Our military families deserve much better than this.