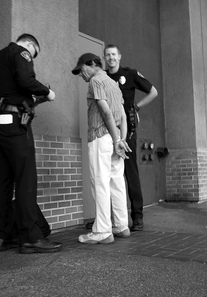 Wrongful arrests or false arrests pertain to technical legal definitions concerning police behavior in detaining and arresting someone.  There are very specific factors that make an arrest wrongful or false.  There are two criteria which you would have to demonstrate in order to prove that you were arrested wrongly or falsely and those are:
1)you were detained unlawfully against your will; and,
2)the arrest was unreasonable under the circumstances (See Dowling v. City of Fort Lauderdale.)
Now, it's important to note that if you are found innocent or the prosecuting attorney chooses not to press charges, that in and of itself does not constitute a wrongful arrest.
We are protected from wrongful arrest by the Fourth and Fourteenth Amendments to the Constitution. The Fourth Amendment states that "No Warrants shall issue, but upon probable cause, supported by Oath or affirmation." The Fourteenth Amendment states that "No person shall be deprived of life, liberty, or property without due process of law."
If a person is wrongfully arrested they can sue for a variety of different damages and wages lost during their period of incarceration:
Lost wages
Damage to reputation
Embarrassment
Physical harm incurred during or as a result of the wrongful arrest
Illness incurred during or as a result of the wrongful arrest
Wrongful death
Punitive damages
False imprisonment
Excessive force
Malicious prosecution
Wrongful conviction
Be advised; if a person that is wrongfully arrested pleads guilty to any of the charges brought against them in a court of law and it is then found that they were wrongfully arrested, that person will have their lawsuit legally thrown out and cannot sue for any of the items mentioned above.
An unlawful arrest also gives rise to a claim under Section 1983 of Title 42 of the U.S. Code, the federal civil rights statute. To recover under this law, you must show that the defendant, acting under color of law, deprived you of a right guaranteed by statute or the U.S. Constitution. If the police arrested you without probable cause to believe that you committed a crime, that is a violation of your Fourth Amendment right under the Constitution to be free of unreasonable searches and seizures.
These situations occur more often than you'd care to imagine.  Any time you've been arrested it is wise to consult with an experienced Florida criminal defense attorney.