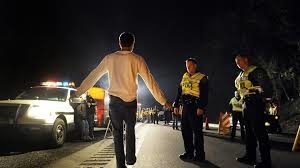 We're on the cusp of another New Year's Eve night during which many of us will have too much to drink and make foolish, life-altering decisions.  It's simple, don't do something you'll regret tomorrow afternoon.  You can avoid all the headache by planning ahead right now.  If you have plans to go out and drink, make arrangements for an Uber, a taxi, or to stay in place tonight.  Just don't drive after you've been drinking.  If you choose to drink and drive, the best outcome is you'll have a New Year's present-a DUI charge.  Worst case scenario-you won't see January 2, 2019 or will do so after having taken the life of someone else.
According to AAA , the odds of getting in a car accident on New Year's Eve skyrockets because there are more drunk drivers on the road. During the holidays, more drivers are alcohol impaired because so many people are going to holiday parties.
Here are some statistics to keep in mind as you hit the road this New Year's Eve:
Across the country, 36 people, on average, were killed every day in crashes involving alcohol between 2001 and 2005. According to the National Highway Traffic Safety Administration , on New Year's Day alone, that number went up an average of 54.
DUI arrests peak between Thanksgiving and New Year's Day.
Between Christmas and New Year's, 40 percent of deadly crashes involve drunk drivers, according to the National Institute of Alcohol Abuse and Alcoholism.
AAA said more pedestrians are killed on New Year's Day than any other day of the year.
just trying to explain that getting a DUI is one of the most life-ruining things that can happen to you, and it's shockingly easy to avoid.  If you get pulled over and get charged with a DUI, call me.  You will need a lawyer who handles DUI cases.  If you're smart, you won't need to call me though.
Have a safe, responsible New Year, and don't start off 2019 behind bars.