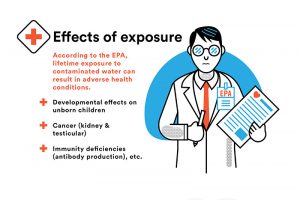 Ten companies that manufacture flame retardant products are the subject of a class action lawsuit filed in Florida.  Some of the companies are household names such as 3M and Tyco Fire Products.  It's not known how many have joined the class action but the potential size of the class could be huge because it could include firefighters and others who handle flame retardant materials.
Six former employees of the Florida State Fire College near Ocala have joined the lawsuit and wells around the college have been shown to be contaminated.
The lawsuit, filed in the U.S. District Court for the Middle District of Florida, alleges the companies were negligent and purposefully hid findings of studies that showed chemicals in the suppressants were carcinogenic and dangerous to the environment. The former employees allege the manufacturers knew about the adverse effects of their products since the 1970s but continued to manufacture, advertise and sell the products to consumers.
Aqueous film-forming foam contains two chemicals — perfluorooctane sulfonate and perfluorooctanoic acid — which are the main focus of the suit.
The Environmental Protection Agency describes them as man-made chemicals toxic to animals and humans that are readily absorbed after oral exposure and that are persistent in the environment, according to an agency fact sheet. In humans, the chemicals tend to accumulate in the blood plasma, kidney and liver.
They are used in firefighting to suppress fires that involve fuels such as petroleum and other flammable liquids.
Class members could have been exposed to the chemicals through consumption, inhalation or skin absorption. Plaintiffs formerly of the administrative side of the college claim they came in contact with the chemicals through their accumulation in the college's pipes, faucets, showerheads, appliances, sinks and drinking water fountains.
The suit calls for various tests to be included in the program to monitor the thyroid function, liver function, screen for kidney cancer, testicular cancer and reproductive or infertility issues.
Stay tuned.  This could be a big story and it's just the beginning. . .