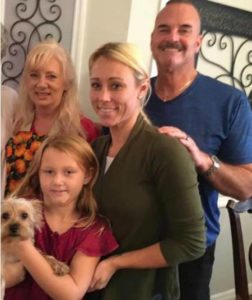 Terry L. Strawn was named an Officer of the Year in 2009. Sheriff's officials cited his work in removing dangerous criminals from the streets.
"Deputy Strawn is persistent, leaving no stone unturned in his pursuit of the lawbreakers," then-Sheriff David Gee said. "Recently he arrested a fugitive and an armed robbery suspect after a traffic stop. His high rate of success in the location and capture of numerous suspects has earned him this year's top honor in east Hillsborough County."
Recently, Deputy Strawn worked as a school resource officer at Valrico Elementary School after retiring from the Hillsborough County Sheriff's Department.  The department rehired him as a resource officer at the school shortly after he retired.
Ingrid Martinez said her son, a second grader, used to call Strawn "the nice policeman."  "He would sit down with them sometimes at lunch," Martinez said. "My son would always say, 'He's a very nice guy, Mommy.'"
And yet yesterday morning he shot and killed his wife, his daughter, and his 6-year-old daughter before taking his own life.
"He indicated he was losing everything," said Hillsborough Sheriff Chad Chronister. "I'm saddened. But I'm also disheartened that a sheriff's deputy would ever cause harm to another individual."
Terry Strawn also spoke of coping with financial and health problems, the sheriff said, but no financial concerns surfaced during his recent pre-employment background check when the retired deputy returned to duty this past summer.  In fact, Strawn went through an extensive background and psychological testing before he was re-hired as a school resource officer.
"He had a phenomenal reputation throughout the Sheriff's Office," Chronister said. "No indication whatsoever … that this deputy would conduct himself in the manner he did."
So where does this leave us?  The Sheriff is dumbfounded as to how this happened.  Was the psychological testing and background screening insufficient?  Did his co-workers miss the signs?  What could possibly lead a veteran police officer, a decorated one at that, to kill three innocent people (his own family) and then take his own life?
The life of a police officer is filled with anxiety and tension. Officers see the worst and sometimes struggle to cope with what they've witnessed or had to do to protect people. In 2004, he and another deputy shot and killed a man while responding to a domestic violence call. The man pointed a metal and plastic tool at the deputies as they tried to arrest him, according to news accounts of the incident. Fearing the object was a gun, the deputies fired their weapons.  That had to take a toll on Strawn.
Unfortunately, this isn't the first time this has happened. The slayings mark the second time this year that a Hillsborough deputy was blamed for a domestic violence-related murder-suicide. In September, Deputy Kirk Keithley shot his wife, Samantha, in their Land O' Lakes home, then killed himself.
"We've been concerned because we've seen suicide rates have risen," Chronister said. "Why is this occurring? I wish I knew."
That's not good enough.  I'm not blaming anyone here.  But we have a problem and a serious one at that.  If the public is not safe from those who are supposed to be protecting us we are not in a good place.  Could something have been done to prevent these tragedies?
Is it possible that a "normal" person whom everyone describes as a "good guy" could do something like this?  Could random acts of carnage be carried out by a good guy?  Such questions are not easily resolved.  Maybe we should stop calling people good or bad.  Maybe we should recognize that within each person there lies the capacity for good and evil.  I came across this quote the other day from an author who'd experienced both in his lifetime as a prisoner in the Soviet gulags.  "Gradually it was disclosed to me that the line separating good and evil passes not through states, nor between classes, nor between political parties either — but right through every human heart — and through all human hearts. This line shifts. Inside us, it oscillates with the years."
Anyway, a few days before Christmas we are forced to confront another senseless tragedy in our own community.