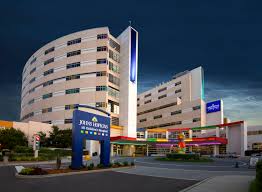 In the wake of a Tampa Bay Times investigation into the spike in infant mortality rates at Johns Hopkins-All Childrens Hospital in St. Petersburg, the CEO has resigned.
Dr. Jonathan Ellen, named chairman of USF's consolidation task force in March, stepped down as CEO of Johns Hopkins All Children's Hospital on Tuesday.
The move followed a Tampa Bay Times investigation that found the hospital's mortality rate for heart surgeries tripled between 2015 and 2017, becoming the highest of any pediatric heart surgery program in the state last year.
The local congressional delegation has called for a federal probe.  U.S. Reps. Kathy Castor and Charlie Crist doubled down on their request for a federal investigation into the Johns Hopkins All Children's Heart Institute on Wednesday, a day after the hospital announced resignations by the CEO and other top executives.
"While we welcome the change in leadership at All Children's as a prudent first step, this is no substitute for effective oversight by the Centers for Medicare and Medicaid Services and the U.S. Department of Health and Human Services. We continue to call for a federal investigation to provide the answers and accountability demanded by the seriousness of this situation. Major corrective actions must be taken to reestablish the high quality of care patients deserve and the preeminent reputation the institution held for decades."
Times reporters spent a year examining the All Children's Heart Institute — a small, but important division of the larger hospital devoted to caring for children born with heart defects.
They compared Florida's 10 pediatric heart surgery programs by analyzing a state database of 27 million hospital admissions spanning a decade. Then they reviewed thousands of pages of medical reports, interviewed current and former hospital workers, spoke with top health care safety experts and tracked down families across Central Florida coping with catastrophic outcomes.
They discovered a program beset with problems that were whispered about in heart surgery circles but hidden from the public.
The Times found that serious safety issues were left unaddressed and medical errors mounted. All Children's surgeons made serious mistakes, and their procedures went wrong in unusual ways. They lost needles in at least two infants' chests. Sutures burst. Infections mounted. Patches designed to cover holes in tiny hearts failed.  The 2017 death rate was the highest any Florida pediatric heart program had seen in the last decade.
So far, the hospital has remained silent on the issue.