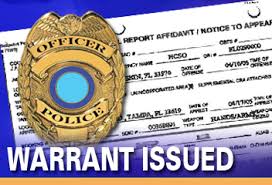 Those are words Floridians aren't hearing so much these days.
There are more than 238,000 warrants for arrest in Florida.  The crimes associated with these arrests range from the worst to the least serious.  Why are these warrants outstanding?
Judges, law enforcement officials and reformers across the country say the glut of warrants overwhelms the criminal justice system, ensnaring people for minor infractions while distracting police from pursuing warrants for violent criminals.
Officials in Florida, however, say they prioritize what they should: individuals wanted on recent, violent crimes. Older cases, those involving nonviolent crimes, or those in which suspects fled the state — and no longer threaten Florida residents — are lower on the list of priorities.
This isn't just an issue in Florida-it is nationwide. The number of warrants issued overwhelm the manpower to serve and execute them.
Most Florida warrants name people accused of nonviolent crimes. But nearly 9,700 of them, or about 4 percent, stem from violent cold cases whose victims still ache for closure. They include assaults, sex offenses, homicides, robberies and rapes.
The personnel shortage means that law enforcement officials may try to serve a warrant once or twice and then put it "on file" because the lack of time and other priorities.
The Bay area has its share of outstanding warrants.  Hillsborough has 11,769 outstanding warrants and Pinellas County has a whopping 21,310.  But the most in Florida is in Monroe County, the Florida Keys which has one outstanding warrant for every 12 residents.
On many occasions, the warrant gets served randomly such as during a traffic stop.
More than half of the outstanding warrants in Florida — 132,871 of them — stem from violations of court orders, such as violating probation or failing to appear in court. Another 35,059 are for traffic offenses.  But these minor offenses like traffic citations clog the system and make it unmanageable.
Other states are trying to tackle the problem with technology.  In New York, authorities are experimenting with text-based apps to inform people about hearings. In Louisiana, probation officers are piloting a program allowing offenders to check in via video chat, so they don't have to drive long distances or find reliable transportation.
New York, Kansas and Washington have held so-called "amnesty," "clean slate" or "safe surrender" days where people with warrants stemming from minor offenses can clear their cases in a no-questions-asked sit-down with court officials.
Florida needs to do something.  They system is a mess.