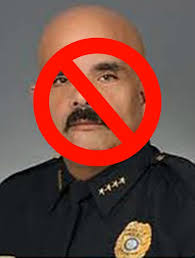 Raimundo Atesiano, the former Biscayne Park chief of police, was sentenced yesterday to three years in prison for framing three innocent men for burglaries in the small town north of Miami.  As chief, Atesiano wanted to solve the burglaries and ensure the community that they were safe.  He chose crime to make that point and it ended up sending him to prison after being fired from his job.
"When I took the job, I was not prepared," Atesiano told a federal judge on Tuesday. "I made some very, very bad decisions."
His apologies did not sway U.S. District Judge K. Michael Moore, who on Tuesday sentenced the 53-year-old former cop to three years in prison. He allowed Atesiano to remain free for two weeks before surrendering so he can care for his mother, who is dying of leukemia.
In September, Atesiano pleaded guilty to a conspiracy charge of depriving the three suspects of their civil rights because he and the officers charged them without a legal basis. Atesiano's conspiracy conviction carried up to 10 years in prison.
Atesiano resigned from the Biscayne Park force in 2014 and previously worked as an officer for Sunny Isles Beach, Hialeah and Miami-Dade County Corrections.
Atesiano's sentencing ended an ugly chapter in Biscayne Park's recent history, where allegations of racism — the three men falsely charged are black — tainted the police department's culture of law enforcement in the mostly white community.
The damage done to the police department's reputation can not be calculated or underestimated.  Citizens expect, or at least should expect, decency and truthfulness from those in positions of such authority.  It's absolutely right that this chief should go to jail.
Kudos to reporters at the Miami Herald who unearthed the chief's criminal behavior.  Civil lawsuits may follow in the light of these false arrests.  The men arrested can't get their lives back-one was deported to Haiti already.  In light of that, the judge's sentence may have been too lenient.