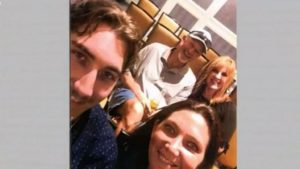 Christopher Precopia was in a heap of trouble and he knew it.
A former girlfriend said that two days earlier, he had broken into her home and sliced an "X" into her chest with a box cutter. The two dated several years earlier, but Precopia couldn't remember the last time the two had contact. Now he was facing a felony charge: burglary of a habitation with the intent to commit other crimes.  If convicted, he faced 99 years in prison.
He couldn't recall any evidence that would set the record straight.  That's when his mother came to the rescue.
On the night of the alleged attack, Precopia was with his mother, Erin, at a Northwest Austin, Texas hotel about 65 miles from the accuser's home.  That evening a selfie was taken and posted to his mother's Facebook account, time stamped and geographic location available on the photo.
Cristopher's mother, Erin Precopia, remembered the evening of the alleged attack she was with her son at the Renaissance Austin Hotel. She also had proof – a selfie taken at 7:02 p.m. CST. The accuser told authorities she was attacked at 7:20 p.m. at her Bell County residence — about 70 miles from the hotel where Precopia was with his mother.
Nine months after his arrest, prosecutors dropped the charges.  Precopia is a free man thanks to a selfie posted on social media.  The post saved his life and cleared him of all charges.
It's not clear if charges are pending for the ex-girlfriend who concocted the false report.
Prosecutors did the right and obvious thing in dropping the charges once they were presented with new evidence exonerating the young man.
Criminal cases can often turn on the slightest pieces of evidence-this time a selfie posted on Facebook saved a man's life.  It was irrefutable evidence of his innocence and spare him and his family a lifetime of needless suffering.