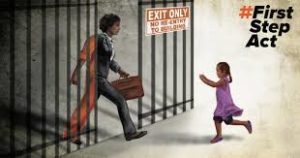 In a rare show of bipartisan cooperation, the Congress is working on making significant prison reform.  The legislation, called the First Step Act, has the support of President Trump.
"Today, I am thrilled to announce my support for this bipartisan bill that will make our communities safer and give former inmates a second chance at life after they have served their time," Trump said during brief remarks in the Roosevelt Room.
The measure, which could go to a vote during the lame-duck session of Congress between now and January, contains several changes to the way the federal government treats drug offenders, both those who are in prison now and those who will face a judge in the future.
If it is passed, thousands of federal prisoners would have access to more help preparing for life after the end of their sentences. Thousands of well-behaved prisoners would win freedom earlier. And thousands of people who are arrested for drug crimes in the future would become eligible for exemptions from harsh mandatory minimum sentencing laws.
Trump has seized on a piece of legislation that makes sense and restores common sense to the penal system after years of draconian measures in the wake of "get tough on crime" measures dating back to the 1990's.
Of course, the measure would only apply to federal prisoners. However, reform advocates note that the individual states provided the impetus for the federal reform.
"The only reason we've gotten to the point of these federal reforms, which we think will be transformative, is the fact that states have applied them and have data they can point to that can persuade the tough-on-crime crowd," said Mark Holden, chairman of Freedom Partners, which makes conservative arguments for criminal justice reform. "It is hard to argue against that, and it's all based on data."
President Trump will get a boost from a successful vote in Congress.  He'll be able to say he worked in a bipartisan fashion with Congress on a piece of legislation that significantly impacts the lives of every American.