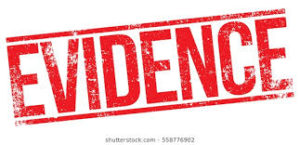 Normally, a defendant's prior bad acts are not admissible as evidence in a criminal trial.  The underlying reasoning for this evidentiary rule is that a person should be judged for his or her present conduct and not for things that he or she may have done in the past.
In this case, prosecutors want to introduce into evidence Michael Drejka's past confrontations over the misuse of handicapped parking spaces.
A motion filed in court describes a widely reported encounter in which Drejka confronted Richard Kelly over why he had parked his sanitation truck in a handicap-reserved parking space without a permit, then called Kelly's boss and told him he was lucky he didn't "blow his employee's head off."
The filing notes it was the same spot that McGlockton's girlfriend, Britany Jacobs, had pulled into on July 19 at the Circle A Food Store on Sunset Point Road. Drejka confronted Jacobs while McGlockton was inside the store. McGlockton caught wind of the argument, walked outside and shoved Drejka to the ground. Drejka, who said he was afraid of further attack, pulled his gun and shot McGlockton in the chest.
The shooting, caught on surveillance video, sparked nationwide outrage after Pinellas County Sheriff Bob Gualtieri said his agency was precluded from arresting Drejka because of Florida's stand your ground law. The Pinellas-Pasco State Attorney's Office charged Drejka with manslaughter three weeks later.
As I wrote earlier, as a general rule, prior bad acts would not be admissible in the present instance but there is an exception known as the Williams Rule which allows for such evidence when proving:
Motive;
Opportunity;
Intent;
Preparation;
Plan;
Knowledge;
Identity; or
The lack of mistake or accident.
This controversial character evidence rule is known as the Williams Rule, for a 1959 rape case, Williams v. State, which first permitted Florida prosecutors to introduce evidence of other crimes, wrongs, or acts which may prove that the defendant is responsible for the crime.
In the Drejka case, it will be important for prosecutors to be allowed to introduce the defendant's prior bad acts.  The Williams Rule may allow them to do just that.  However, the prior evidence the prosecutors hope to introduce into this case must be extremely similar. For example, if Drejka said he would use a knife or beat the person for parking illegally then it would be dissimilar and not be allowed. Likewise, in this case the fact that he threatened to shoot the driver and not the person who got shot that is not similar enough. In other words, he shot this victim because he got pushed to the ground, not because the victim parked illegally
On the other side, the defense will argue that such an introduction will unduly and unfairly prejudice the jury against their client.  We will see how the court rules.