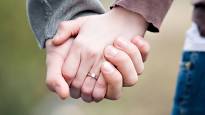 For years, baby boomers were blamed for an ever rising divorce rate in the United States.  That trend seems to be reversed with the coming of age of the Millenial generation.  Millenials are marrying later in life, taking their time in choosing a life partner, and avoiding divorce.
A recent University of Maryland study shows that Millenials are eschewing the habits and customs of their parents and grandparents in many ways, including marriage and divorce.
University of Maryland professor Philip Cohen found that from 2008 to 2016, the U.S. divorce rate dropped by 18 percent. What's causing this downward trend? "The overall drop has been driven entirely by younger women," Cohen writes.
The study, which has not been published in a peer-reviewed journal, has been submitted for presentation at the 2019 Population Association of America meeting, an annual conference for demographers and sociologists to present research.
To measure the divorce rate, Cohen compared the number of divorces to married women. When controlling for other factors like an aging population, the results show only an 8 percent drop, "but the pattern is the same," Cohen notes.
"One of the reasons for the decline is that the married population is getting older and more highly educated," Cohen told Bloomberg. The study notes that newly married women are now "more likely to be in their first marriages, more likely to have BA degrees or higher education, less likely to be under age 25, and less likely to have own children in the household," which Cohen writes can all affect the risk of divorce.
Given these newly married couples are older and more highly educated, the study also predicts the divorce rate will continue to drop.
Newly married couples are also from higher socio-economic levels than those who choose not to marry and co-habitate.  What this means for families and children is not clear yet.  What is clear is that Millenials have once again chosen to forego the paths trodden by previous generations and do things their own way.