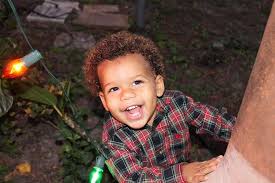 As a parent, I'll be the first to say it's the parents responsibility to protect their children but when the parents fail who is going to protect them?  In most instances, it's up to the state to step in and protect them but time after time the state fails as in the tragic case of Jordan Belliveau.
Charisse Stinson, Jordan's mom, is charged with first degree murder in the death of her toddler.  As the case unfolds in the courts, questions arise as to why she would have had contact with the child given her past and the father's past involvement with gangs and violence.
Court documents show that Jordan's parents are violent and impulsive.  Why in the world would either of them have custody or contact with a vulnerable child?
According to the Tampa Bay Times, "The day before 2-year-old Jordan Belliveau was killed, a case manager warned his parents that the toddler could once again be taken from them if they did not fix mounting problems.
The Aug. 31 reprimand capped a tumultuous summer for 21-year-old Charisse Stinson and 22-year-old Jordan Belliveau Sr.
After the boy was returned from foster care, the young parents broke up, fell out of touch with case workers and missed several counseling sessions. In July, Belliveau was arrested, accused of hitting Stinson during an argument over their son.
The case manager told them "these things need to be fix(ed) like ASAP" or else Jordan would be taken again.
A little more than 24 hours after the warning, Stinson reported the boy missing. Three days later, police found his body in the woods behind the Largo Sports Complex. Investigators said Stinson confessed to hitting Jordan in the head before leaving him outside and concocting a story about a stranger who had knocked her unconscious and taken her son. She is charged with first-degree murder."
Our children are in danger.  Jordan Belliveau is not an isolated case.  Something needs to be done to protect children.