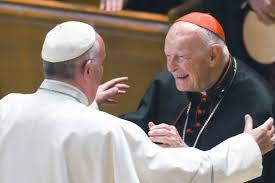 It looks like Pope Francis knew about Cardinal Theodore McCarrick's abuse of children and seminarians long before he finally asked him to resign.  An 11-page letter published on August 22, 2018 reveals that the former papal nuncio (ambassador) to the United States told Pope Francis about McCarrick's behavior in 2013.  He also told him that the former pope, Benedict XVI, had punished him back in 2009 or 2010.  According to Archbishop Carlo Maria Viganò, Benedict had punished McCarrick by ordering him to leave the seminary where he was living.  He was also forbidden to celebrate [Mass] in public, to participate in public meetings, to give lectures, to travel, with the obligation of dedicating himself to a life of prayer and penance.
Benedict's measures came years after Archbishop Viganò's predecessors at the nunciature (embassy) — Archbishops Gabriel Montalvo and Pietro Sambi — had "immediately" informed the Holy See as soon as they had learned of Archbishop McCarrick's "gravely immoral behavior with seminarians and priests," the retired Italian Vatican diplomat wrote.
He said Archbishop Montalvo first alerted the Vatican in 2000, requesting that Dominican Father Boniface Ramsey write to Rome confirming the allegations. In 2006, Archbishop Viganò said that, as delegate for pontifical representations in the Secretariat of State, he personally wrote a memo to his superior, then Archbishop (later Cardinal) Leonardo Sandri, proposing an "exemplary measure" be taken against McCarrick that could have a "medicinal function" to prevent future abuses and alleviate a "very serious scandal for the faithful."
He drew on an indictment memorandum, communicated by Archbishop Sambi to Cardinal Tarcisio Bertone, then Secretary of State, in which an abusive priest had made claims against McCarrick of "such gravity and vileness" including "depraved acts" and "sacrilegious celebration of the Eucharist."
The plot thickens-McCarrick's supporters in the USA, particularly Cardinal Wuerl, aided and abetted McCarrick.  Archbishop Vigano writes that he personally told Wuerly about McCarrick and the sanctions against him.  In spite of that, Wuerl had McCarrick move into the seminary in Washington DC where he could continue sleeping with and abusing seminarians.
"I myself brought up the subject with Cardinal Wuerl on several occasions, and I certainly didn't need to go into detail because it was immediately clear to me that he was fully aware of it," Vigano wrote.
Vigano wrote that it was "clear" that "from the time of Pope Francis's election, McCarrick, now free from all constraints, had felt free to travel continuously, to give lectures and interviews."
Moreover, he added, McCarrick had "become the kingmaker for appointments in the Curia and the United States, and the most listened to advisor in the Vatican for relations with the Obama administration."
Viganò claimed that the appointments of Cardinal Cupich to Chicago and Cardinal Joseph Tobin to Newark "were orchestrated by McCarrick," among others. He said neither of the names was presented by the nunciature, whose job is traditionally to present a list of names, or terna, to the Congregation for Bishops. He also added that Bishop Robert McElroy's appointment to San Diego was orchestrated "from above" rather than through the nuncio.
The retired Italian diplomat also echoed the Register's reports about Cardinal Rodriguez Maradíaga and his record of cover-up in Honduras, saying the Pope "defends his man" to the "bitter end," despite the allegations against him. The same applies to McCarrick, wrote Viganò.
"He [Pope Francis] knew from at least June 23, 2013 that McCarrick was a serial predator," Archbishop Viganò stated, but although "he knew that he was a corrupt man, he covered for him to the bitter end." (emphasis mine)
"It was only when he was forced by the report of the abuse of a minor, again on the basis of media attention, that he took action [regarding McCarrick] to save his image in the media," wrote Viganò.
According to Viganò, the Vatican knew about McCarrick since at least 2000.  But McCarrick was protected by gay supporters honeycombed throughout the Vatican. Pope Benedict XVI ordered McCarrick out of public ministry in 2009 or 2010, but McCarrick, abetted by powerful gay allies in the Curia, defied Benedict.
In his letter, Viganò calls for the resignation of the pope and those involved in this conspiracy.
"Francis is abdicating the mandate which Christ gave to Peter to confirm the brethren. Indeed, by his action he has divided them, led them into error, and encouraged the wolves to continue to tear apart the sheep of Christ's flock.

In this extremely dramatic moment for the universal Church, he must acknowledge his mistakes and, in keeping with the proclaimed principle of zero tolerance, Pope Francis must be the first to set a good example for cardinals and bishops who covered up McCarrick's abuses and resign along with all of them."
Wow! Can you say enterprise corruption?