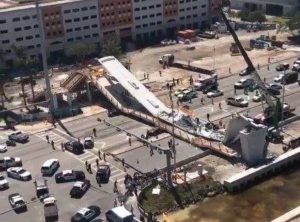 Criminal charges may be on the horizon in the tragic FIU pedestrian bridge collapse that claimed the lives of six people this week.
Miami-Dade police and prosecutors have started an investigation into the accident that killed at least six people, but building a criminal prosecution for the deaths remains a daunting prospect, according to legal experts.
Fatalities in construction and industrial accidents rarely result in manslaughter prosecutions because, under Florida law, it is difficult to prove people involved in the projects acted with a "reckless disregard for human life" or had "a grossly careless disregard for the safety and welfare of the public."
Although it's outrageous that the bridge designer's voicemail message went unheard until Friday, the day after the bridge collapsed.  The voicemail was left on Tuesday, two days before the tragedy.  If there aren't criminal prosecutions, firings should be in the offing.  In my office, such negligence would be a dismissable offense.  A
transcript of the voicemail has been made public.
While the message may not have sounded any alarms, cracks in such a structure should have been addressed immediately in the interests of public safety.
The bridge, while funded primarily through a federal grant and elevated over a state road, was overseen by FIU and undertaken by Miami's MCM and Tallahassee's Figg Bridge Group. The companies used an accelerated bridge construction technique to erect the walkway over the roadway, using a "self-propelled modular transporter" to move a pre-constructed 175-foot-long concrete slab into place.
As investigators worked to find the final bodies trapped in vehicles under the rubble Friday night, the National Transportation Safety Board and the Occupational Safety and Health Administration began probes to determine what caused the catastrophe — a crucial ruling needed before any criminal charges can be considered.
Among the factors the probes will consider: Was substandard material used on the concrete span? Were there crucial design flaws in the "instant bridge" designed to minimize disruption to traffic? Were safety measures ignored that might have prevented harm to the the public?
In the wake of a needless tragedy, people and companies will be held accountable, either criminally or civilly.  That's the way it should be if we are to ensure public safety.