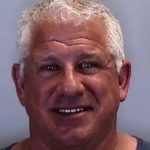 Dr. Gary Kompothecras, the chiropractor behind the ubiquitous "Ask Gary" tv ads, was arrested and charged with DUI in Manatee County after being clocked on radar with driving at 100 mph on I-75.  He was booked into the Manatee County jail and later released after posting a $500 bond.
Kompothcras is best known for his "Ask Gary" lawyer referral service that has provoked legal issues with the Florida Bar and basic ethical questions.
The concern with "ASK GARY" is that they are a "faceless" medical-referral service which is accused of creating a bridge between attorneys and a medical provider. The provider in Florida is often the Physicians Group, and "ASK GARY" creator Gary Kompothecras owns Physicians Group.
Attorneys are allegedly given incentives to work with "ASK GARY" and the Physicians Group. By being a toll-free number and calling itself a "referral service" the Gary Kompothecras' companies have tried to circumvent the Florida Bar's regulations governing how an attorney can get clients. Florida lawmakers are finally cracking down on this practice, and starting to call it what it is – illegal. Media sources report that the FBI has launched its own investigation into the Florida company and its many subsidiaries.
Kompothecras' new legal issues aside, "Ask Gary" and similar efforts debase the medical and legal professions as they seek to profit from the misfortunes of others and make it more difficult for citizens to seek real justice in the civil courts.  While they line their pockets, ordinary people who've suffered serious injuries as a result of a car crash aren't afforded the right of due process in the courts because politicians can point to groups like "Ask Gary" to illustrate the supposed corrupt nature of personal injury cases.
His recent legal troubles bring once more to the forefront the ethical and legal problems with such businesses.  They profit from the suffering of others and give a black eye to the legal profession.  It's time for this to stop.