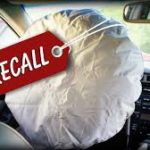 This week, we had a spate of people coming to our office to talk to us about faulty airbags and potential airbag lawsuits.  The issue has received widespread coverage in the media and a few people have been killed as a result of a defective or faulty airbag.
The Associated Press reports that another person has died as a result of a defective Takata airbag. The latest fatality was Nichol Barker, 34, of Holiday, Florida. According to AP and the lead investigator, Chester T. Everett, she "was struck by metal pieces that burst through the Takata airbag, causing a six-by-three-inch gaping wound to her left temple, a fractured skull, and bruising and bleeding on her brain." On July 19, 2017, Barker was driving a 2002 Honda Accord at about 30 mph when it collided with a car that had turned left in front of her. The other three occupants in her car, including two children, received no more than minor injuries. This is at least the 22nd death that has resulted from a faulty Takata airbag, many of which have occurred in Hondas of the same vintage.
The issue involves defective inflator and propellent devices that may deploy improperly in the event of a crash, shooting metal fragments into vehicle occupants. Approximately 42 million vehicles are potentially affected in the United States, and at least 7 million have been recalled worldwide.
Just last month, the Associated Press reported that Toyota and Honda are recalling more than 1 million additional vehicles in the U.S. to replace defective and potentially deadly Takata air bag inflators.
The new recalls come after Takata revealed that another 3.3 million inflators are defective. The latest recalls are part of the largest series of automotive recalls in U.S. history, with 19 automakers having to recall up to 69 million inflators in 42 million vehicles. The problem brought a criminal conviction and fine against Takata and forced the Japanese company into bankruptcy protection.
Takata's inflators can explode with too much force and hurl shrapnel into the vehicle. At least 20 people have died worldwide and more than 280 have been hurt.
Toyota says it's recalling an additional 601,000 vehicles in the U.S. Owners will be notified by March and dealers will replace front passenger inflators or air bag assemblies.
If you or a loved one have suffered injuries from a defective airbag, please give us a call.