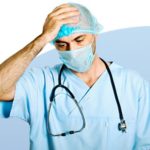 A botched surgery at Tampa General Hospital to remove a benign ovarian cyst has left a woman without her hands and her feet.  The surgery was performed by USF's College of Medicine.
Today, Lisa-Maria Carter lives in a nursing home and requires constant care. She endured skin grafts and the placement of a fistula and waste bag to repair her small bowel, jurors learned.
The verdict came at the end of two-week trial. It was the third time the case had gone to a jury, with two other panels unable to reach a verdict.
The jury award will have to pass through the Florida Legislature since USF is shielded from exposure in lawsuits through Florida's sovereign immunity law, which caps damages in such cases at $200,000.
If justice is served, Carter will receive the full amount for her devastating injuries.  Outcomes from botched surgeries often leave devastating results and this is clearly one of those cases.  USF plans to appeal the verdict.
Florida is one of the toughest states to bring medical malpractice lawsuits.  The insurance and medical lobbies in Tallahassee are powerful and have done quite a bit of work to ensure Florida citizens can't seek justice in the courts.  This of course isn't fair and denies the right of each citizen to hold institutions and professionals accountable for their actions.  The lobbyists use terms such as "frivolous lawsuits" to influence legislators to vote for their bills and they've been successful.  It's high time the citizens of the state are properly and fully represented in the state legislature so that their civil rights are protected and preserved.  Justice demands it and the suffering that Lisa-Maria Carter has endured should not be ignored in favor of the medical profession and their high priced lobbyists.  I am hoping the Legislature does the right thing and awards Ms. Carter what she deserves for her suffering.