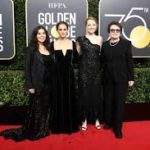 Time's Up, a movement launched in October 2017 but officially launched on New Year's Day 2018, dominated the Golden Globes with black gowns, pins, and speeches by Hollywood celebrities all of whom decried the male-dominated entertainment industry while pledging their support for women who've been sexually harassed and/or denied entrance to Hollywood.
Hollywood A-listers are putting serious money into battling sexual harassment — with some superstars chipping in six figures and even more. But you don't have to be a celebrity to contribute to the cause. The cause has already garnered $15 million in donations.
"Time's Up Legal Defense Fund will provide subsidized legal support to women and men who have experienced sexual harassment, assault, or abuse in the workplace and while in pursuit of their careers," reads a statement on the donation's page. The fund will be administrated by the National Women's Law Center, with a network of lawyers and public relations professionals ready to lend assistance.
More than 11,000 people and groups have donated so far, in sums ranging from $5 to $2 million. Director Steven Spielberg and his wife Kate Capshaw donated $2 million through their Wunderkinder Foundation, the largest sum so far. Star Wars director J.J. Abrams and his wife Katie McGrath contributed $1 million, as did most of the major talent agencies in Hollywood.
Movement starters Meryl Streep, Reese Witherspoon, Jennifer Aniston and Shonda Rhimes each donated $500,000, while Taylor Swift and Oprah Winfrey chimed in with $100,000 each. Natalie Portman, Emma Stone, Jessica Chastain and Cate Blanchett continued the donations with $50,000 each.
The fundraising for a legal defense fund is unprecedented.  I can only imagine if these same people had organized and fought for children who had been sexually abused by priests, scout masters, and ministers.  But this is Hollywood, something we've come to expect from Tinseltown.
Whether or not the Time's Up movement will have any lasting legal and social impact in the United States has yet to be seen.  It made a grand splash at the Golden Globes but what's next is anybody's guess.  Laws have to change as well as hearts and minds of ordinary citizens.