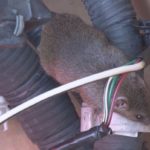 Imagine if you will, a large, ugly rat has eaten through insulation under the hood of your vehicle.  You're driving on I-275 at about 70 mph.  Suddenly, the rat come from underneath the dashboard and scurries up your pant leg.  That's sure to cause an accident or a heart attack.
That scenario could take place if you own a Toyota or a Volvo.   For years now, consumers have been complaining that rats and other rodents have been eating through the soy-based insulated wiring in Toyotas built from 2012 to 2016.  Toyota says the problem isn't make specific but the evidence demonstrates otherwise. So, what links the Toyotas and the Volvos?  In cases where rats chewed through the car's wiring, the cars were manufactured with a soy-based, environmentally friendly insulation that attracted the rodents.
Toyota dealers say the damage caused by the rats and rodents isn't covered under the warranty so there is nothing they can do.
But there is something they can do.  They should recall these vehicles and fix the problem before more people are injured and more cars are disabled by these soy loving rodents.
According to Forbes Magazine, "In September, 2016, a class-action suit was filed against Toyota for vehicles produced between 2012 and 2016 that used soy-coated wiring. Honda was also slapped with a class-action suit earlier in 2016 for vehicles produced between 2012 and 2015. The common denominator appears to be soy."  The suits claim the automakers know about the insulation coating problems, but refuse to cover the repair costs under warranty.
Soy based products in car manufacturing is part of the eco-friendly movement in the auto industry. However, no one seemed to think of the potential harm caused by using the product in cars.  Rat or rodent problems can cause thousands in damage to the vehicle and in most instances the car warranty doesn't cover the damage.  And that doesn't take into account whether or not you really want to be in a car that may be infested with rats.  I know I don't!