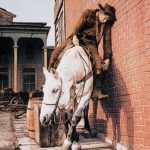 A horse, it's true.  A Florida woman was arrested last month for riding a horse while lit up.  Law enforcement found Donna Byrne slumped over her horse after witnesses called police and told them she was weaving and acting confused.
When deputies measured her blood alcohol level, it registered .157 and .161. That's double Florida's legal limit of .08.
"I wasn't drunk," Byrne told News Channel 8. "I only had two beers, how could I be drunk?"
Byrne is scheduled to appear in court Friday at 1 p.m.
This is the time of year when DUI arrests are on the increase, even though I've never heard of someone being arrested for riding a horse drunk.  Holiday parties coupled with increased DUI patrols (wolf packs) make for a very expensive and stressful holiday season.  Alcohol related crashes are also on the rise this time of year straight through to New Year's.
While this is supposed to be a happy time of the year, an accident or an arrest could put a permanent damper on the holiday cheer.  If you're planning to go out anywhere and drink, whether by horse, scooter, sled, or any other type of transportation you have two options:  1)make sure you have a designated driver or 2)make arrangements with a cab company or Uber.  Make these plans BEFORE you take that first drink.  Once your judgment is impaired, it's hard to make the right call and more than likely you'll get it wrong if you've been drinking.   In the long run, you'll be glad you did.  Lives can be saved and needless expense curtailed if you act smart before you go party.
Employers need to take care as well.  If alcohol is served at a holiday party, the employer needs to make sure no one drives in an intoxicated state.  Act responsibly and you can live to see another holiday.  It's pretty simple.