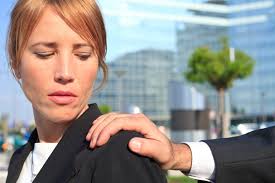 You can't glance at any news feed the last few weeks without reading about another powerful white male accused of sexual harassment or sexual abuse of women or children.  Hollywood's abuzz with the latest accusations.  The NYPD says they're looking at charging Harvey Weinstein with crimes. Kevin Spacey has had his popular Netflix show House of Cards cancelled. Mark Halperin won't be offering any political analysis on MSNBC anytime soon.
Locally, the bombshell hit in our own town of Clearwater.  Politico is reporting that 6 women have come forward anonymously to claim the powerful chairman of the Florida Senate Appropriations Committee either made sexual comments about their bodies or physically groped them.  The women are Tallahassee lobbyists who feared reprisal for their clients and their careers if they came out publicly.
According to the women interviewed by Politico, they came forward anonymously because they feared retaliation from the powerful chairman.
"It was so disgusting and I had to just stand there, over and over again when he would do this, squeezing me hard and grunting in my ear," she said. "The question isn't whether this happened to me. The question is who this didn't happen to in the Capitol. It's not like it's a secret that Jack is like this."
The women's allegations have caught the attention of Latvala's colleagues in Tallahassee as well.
Republican Congressman Matt Gaetz, who represented the Panhandle in the Florida House for three terms from 2010-2016 before being elected to Congress, worked alongside Latvala in the Florida Legislature, and says he was known as an "absolute hound" in the Capitol.
"He's a hound. I mean, everyone in Tallahassee knows that Jack Latvala is an absolute hound," said Gaetz, the son of former Florida Senate President Don Gaetz. "Jack believes that his power as a legislator gives him some special power with women. And, there are times when it's clearly unrequited."
Latvala fired back at the Politico report calling it "fake news" and issuing a veiled threat telling the media outlet "to govern yourself accordingly."
What this portends for Latvala's gubernatorial campaign no one knows.  Latvala reacted with his typical bluster.  He's a powerful politico in his own right and has vowed not to take the allegations lying down.  However, the allegations may be his eventual undoing.  For years, he has ruled Tallahassee through fear and intimidation and he knew how to wield power.  The Politico story reveals what we've known about the inner workings of Tallahassee for quite some time.  It's an all-boys club where the boys thought it was ok to just act as boys.
That brings me to my point.  The issue isn't about sex at all.  It's about the misuse of power.  All the men who've fallen thus far are powerful men who started to believe their own bylines.  They reached the point where they thought however they chose to act was alright just because they were powerful.
We know from the Catholic Church's sex abuse scandal that too much power and authority can lead to this.  When power corrupts it allows the powerful to use others as objects for their own pleasure and amusement.  None of the allegations against Weinstein, Spacey, or Latvala involve consensual relationships between adults.  They do involve an imbalance of power where the one holding the power chose to lord it over the weaker one.
I suspect this isn't the end of the stories.  More women will come forward and good for them.  It is high time these powerful bodies start falling.