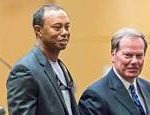 Tiger Woods pleaded guilty to the lesser charge of reckless driving in a West Palm Beach court yesterday.  Woods, arrested in May and charged with DUI after being found passed out in his Mercedes on May 29 with prescription drugs and marijuana in his system, avoided jail time and will have to enter a diversion program, pay a $250 fine, and spend a year on probation.  Since he was intoxicated with prescription drugs and marijuana, according to court records, he will also be required to undergo regular drug tests. Woods is also not allowed to drink alcohol.
It's the best outcome for Woods, a one-time mega-star golfer whose career has dimmed recently.
Woods spoke only briefly during a hearing at a Palm Beach County courthouse, answering questions from a judge about his plea agreement. Prosecutors dropped a driving under the influence charge for the superstar golfer, and the judge warned him to behave.  During his probationary period, Woods will have to submit to random drug testing and is not allowed to drink alcohol.
"This particular plea agreement has no jail time on it. However, if you violate your probation in any significant way, I could revoke your probation and then I could sentence you to jail for 90 days with a fine of up to $500. Is that understood?" Judge Sandra Bosso-Pardo said.
Woods, 41, nodded. He did not make any statement during the hearing or outside the courthouse.  The judge's warning is standard fare in a plea deal agreement between defense attorneys and prosecutors.  In such a high profile case, Woods' lawyer did a good job in getting the charges reduced.  In DUI cases, if it's not possible to get the charges dropped altogether, the next best result is a lesser charge such as in Woods' case which is reckless driving.  An experienced Florida DUI lawyer can be a great asset if you are charged with a DUI.