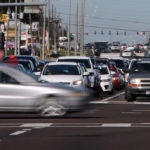 Car accidents happen at the worst time.  We don't expect them and we're shocked when they happen to us.  The impact of the collision alone is enough to give us flashbacks for some time.  Yet, we should be prepared for them at all times.  Most drivers will experience a car accident at some point in their driving career.  Here's a list of the 10 most important things to do right after a car accident.  Write the list down and put it in a safe, secure place in your vehicle.  Trust me, you're not going to remember these things in the aftermath of a crash.
1)Stop and remain with your vehicle.  Never leave the scene of an accident under any circumstances.  It's against the law and you'll likely face criminal charges if you leave the scene of an accident, even a minor one.
2)Maintain the integrity of the scene.  Take pictures of the crash, including the vehicles involved and make notes of what occurred just prior to the crash, including your speed, the speed of the other vehicles involved, and any other pertinent information that may have led to the accident.
3)Call the police.  You will need a police report for insurance purposes and it's always a good idea to call the police.
4)Take photos.  I mentioned this before but it's worth mentioning again.  Take photos of the crash scene, the vehicles involved, and any property damage.
5)Exchange information with the others involved.  Get their names, addresses, phone numbers, emails, and insurance information before leaving the accident scene.
6)Remain calm and civil.  The moments after a car accident can be highly charged emotionally.  Keep yourself in check and don't accuse anyone of anything.  It's better to keep your mouth shut and speak to the police. It doesn't take much for violence to erupt after a car accident.
7)Report the accident to your insurance company.  Give them your information, the other driver's information, and the police report number so they can obtain a copy.
8)Don't talk to the other drivers involved except to exchange information.  Don't discuss fault or the cause of the accident with anyone.
9)Take the names and contact information of any witnesses who may be in a position to assist you.
10)Seek medical attention.  Many people refuse medical attention at the scene because they think they are feeling fine and their seems to be nothing obviously wrong with them.  Right after an accident, adrenalin is running high and you're not in a position to diagnose yourself.  Always seek medical attention.
Tampa Bay is one of the most congested metropolitan areas in the country.  The roadways are always under construction and the area has more than its share of tourists who are unfamiliar with the area.  Unfortunately, serious car accidents occur every day in our community.  Be safe and be prepared.