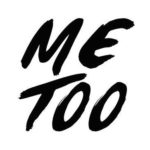 The cratering of Harvey Weinstein's Hollywood career has led not only to an onslaught of women coming forward publicly for the first time to acknowledge the movie mogul had made unwanted sexual advances toward them (in some cases, the allegations involve rape), but a flood of "Me Too" posts on Facebook.
The "Me Too" posts have been all over social media since the weekend.  According to the NY Times, "Women are posting messages on social media to show how commonplace sexual assault and harassment are, using the hashtag #MeToo to express that they, too, have been victims of such misconduct.
The messages bearing witness began appearing frequently on Twitter, Facebook and Instagram on Sunday, when the actress Alyssa Milano posted a screenshot outlining the idea and writing "If you've been sexually harassed or assaulted write 'me too' as a reply to this tweet."
Twitter bolstered the #MeToo trend by promoting it on Moments, its platform of curated stories.
While all this social media activity raises awareness and heightens public concern over the frequency with which women in particular feel they are harassed sexually, it does little to move the needle in terms of the justice system. Today, National Public Radio published a piece about the difficulty in prosecuting, civilly or criminally, claims of sexual harassment.
NPR reports, "And while recent decades have seen a cultural shift and more education to help minimize sexual harassment, HR consultant Sharon Sellers says there's still a big gap between what should happen, and what actually does. One concern is that many people don't feel safe reporting claims."
Evidence gathering is another hurdle in these claims since they are often a he said/she said scenario.  Furthermore, many people who believe they have been sexually harassed or been the victim of an unwanted sexual advance are afraid of coming forward for fear of retaliation from a boss or co-worker.
In the Weinstein case, many of those coming forward were not Weinstein employees but job applicants which further complicates the situation.
According to NPR, "Even where evidence exists, laws may not apply. Federal discrimination laws apply to employers with 15 or more employees, and although many states have lower thresholds, people in the smallest firms often have little recourse but to leave.
And then there are those who say the harassment investigations themselves are rigged in the employer's favor. If, for example, it's an executive facing the charges, sometimes a company will hire an independent third party to investigate. But not all employers do this.
Barry Nixon, executive director of the National Institute for the Prevention of Workplace Violence in Alpharetta, Ga., another consultancy, says when there is no outside investigator, it falls to HR executives to confront the boss."
So, "Me Too" is a good first step but in reality it doesn't change anything with respect to the law or the court system.  It may eventually lead to new laws and will definitely assist victims reclaim their voice.  These events may shape public policy eventually but we're not there yet.  Most likely the worst thing that will happen to Harvey Weinstein has already happened.   That's a shame for the victims and for the cause of justice in general.