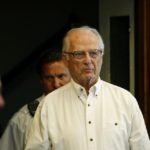 Paul Shanley will walk out of Old Colony Correctional Center in Bridgewater, Massachusetts this morning a relatively free man.  Shanley was convicted in 2005 of rape and abuse of a child and has been in prison ever since.  He was also a Catholic priest, ordained in 1960, who raped and sexually abused scores of young children.  If you followed the priest abuse scandal that broke in Boston in the early 2000's, you've heard of him.  He was notorious.
Ordained by Cardinal Richard Cushing in 1960, Shanley began abusing young boys from the outset and the Catholic Church in Boston knew about it as early as 1967.  In 1979, he gave a public talk advocating "man/boy" love in 1979 to a group which would become known as North American Man Boy Love Association.  More than one bishop and archbishop covered for him and transferred him around the Archdiocese as he continued to "minister" to street hustlers and prostitutes in Boston's inner city.
Now, having served only 12 years on a rape conviction, he's going free. What absolute bullshit!  Where's the justice?  Where's the outrage from the Catholic Church?
It turns out two doctors testified that Shanley, because of his age (86), is no longer a threat to children.  Sexual abuse advocates say otherwise and they're right.  Once a pedophile always a pedophile.  He believes it's ok and even good that adult men should have sex with boys.  He said so himself!
After Mr. Shanley was convicted, prosecutors from the Middlesex County district attorney's office asked the court to send him to prison for the rest of his life. Now that Mr. Shanley is about to be released, victims and their advocates want him to be held indefinitely under a Massachusetts law that allows the state to keep inmates in custody even after their sentences are completed. But the state must prove that Mr. Shanley is incapable of controlling any sexually dangerous impulses.
Marian T. Ryan, the current Middlesex district attorney, said in a statement that her office hired two psychiatric experts to evaluate Mr. Shanley. She said those doctors concluded he did not meet the legal criteria of a sexually dangerous person and so he would have to be released.  He'll have 10 years of probation but without an electronic monitor.  He's been told to stay away from children before and didn't obey.  Why should we think he'll listen now.
So today, there's a monster who'll roam the streets of one of our cities again.