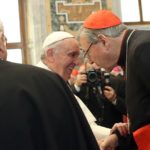 The Catholic Church priest sex abuse scandal just doesn't quit, like a bad penny, it keeps coming back to headline the news cycle.  This time, it's a high-ranking Vatican cardinal who has been charged with multiple sex abuse offenses in Australia.
Why is this news and why should we care?  Pope Francis has pledged time and time again to root out priests who sexually abuse children.  However, this time the problem is in the Pontiff's own back yard.  Cardinal George Pell, who was named in 2014 to head the Vatican's new dicastery for the economy, has been embroiled in the sex abuse scandal.  Pell has been in charge of cleaning up and reforming Vatican finances all the while under investigation by Australia's Royal Commission.
Australian police have not released a detailed list of charges against Pell and didn't disclose any information about alleged victims, saying only that there were multiple charges and "multiple complainants."
"Cardinal Pell has been charged on summons, and he is required to appear at the Melbourne Magistrates' Court" on July 18, Shane Patton, the deputy police commissioner, said at a news conference.
The charges were served on the cardinal's legal representatives in Melbourne. Commissioner Patton said there were multiple complainants but refused to provide further details about them, including their ages"The process and procedures that are being followed in the charging of Cardinal Pell have been the same that have been applied in a whole range of historical sex offenses, whenever we investigate them," Commissioner Patton added. "Cardinal Pell has been treated the same as anyone else."
Cardinal Pell, the Vatican's de facto finance chief, had been accused in hearings before Australia's Royal Commission Into Institutional Responses to Child Sexual Abuse of mishandling misconduct cases against clergy members while he served as the leader of the Archdioceses of Melbourne and Sydney. Then allegations surfaced that he had sexually abused minors himself beginning early in his priesthood and continuing until he became archbishop of Melbourne. He has repeatedly denied the accusations.
If these new allegations are true, it's little wonder he covered up for other priests who were accused of sexual abuse, knowing that  eventually, investigations would uncover his own abuse of children.  When will this stop?  Some think the issue is celibacy.  I think it's corruption and abuse of power.  Absolute power corrupts absolutely.  Our founding fathers knew this when they drafted the Constitution instituting separation of powers and checks and balances.  The Catholic Church has no such document.  Instead, they believe in a monarchical system where the pope can be infallible and the bishops are self-governing, autonomous, and accountable to no one.