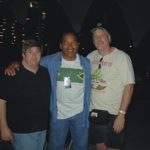 Having already served 8 years of a 9-33 year prison sentence for armed robbery, kidnapping and other charges stemming from a confrontation with two sports memorabilia dealers at a Las Vegas casino hotel in September 2007, OJ Simpson has a parole hearing set for July 20th in Nevada.  Simpson will appear by video from Lovelock Correctional Center, where he is being held, before a panel of four parole commissioners sitting in Carson City, parole official David Smith said.
Simpson has always maintained his innocence and has repeated stated that he was trying to retrieve personal mementos stolen from him after his 1995 acquittal in the killings of his ex-wife, Nicole Brown Simpson, and her friend Ronald Goldman in Los Angeles.
He said family photos and other items disappeared before February 1997, when a judge found him liable for the deaths of Goldman and Nicole Brown Simpson and ordered him to pay $33.5 million to their estates.
The parole board decision could go either way and will largely depend upon Simpson's behavioral history as an inmate as well as the parole board member's view of whether the served time fits the proper punishment for the crime for which he was found guilty and sent to prison.  If the board rules in Simpson's favor, he may leave prison as early as October of this year.
In each state, parole varies according to the laws of the state and the practices and procedures of the individual parole board.  In Florida, the Commission on Offender Review administers parole (see Chapters 947, 948, and 949, Florida Statutes). It allows an inmate who has been granted parole to serve the remainder of his or her prison sentence outside the confines of the institution. Once released, the parolee is subject to strict conditions of supervision, and if those conditions are violated, the Commission may return the parolee to prison.   This differs from probation which is a period of supervision in the community imposed by the court, which may serve as an alternative to imprisonment. These offenders are supervised by the Florida Department of Corrections.